In these modern times, it pays to look a little beyond our front door. There are all kinds of artisans out there in this big world making beautiful things and it's rewarding to seek them out. Maxim Difues is the man behind Difues straps of Belarus, and his quality is impeccable.
Max sent along two straps for your consideration, and they're both well-made, using waxed thread, thick but pliable, comfortable leather, and stainless steel pin and buckle. The first is a very attractive medium light brown with black thread ralleye strap. Difues straps are made from either US Horween or Italian leather.
The ralleye strap is 20mm and came with bars installed. The keeper is wide, and in this example, the buckle is chrome polished. This strap sells for $33 USD. Normally, straps from Difues cost $25-60 depending on what it is. The strap is again, very comfortable, and looks great on the wrist. Some people might object to putting a ralleye strap on a dive watch, but this pairing looks great. The perforations in the strap are perfectly spaced, and look great.
The second strap that arrived is 22mm, dyed black and finished with red thread and a brushed buckle. It looks ruggesdly handsome, and really is the best strap I've tried yet on a MKII-modded Seiko SKX diver. This strap did not come with bars installed, and the Seiko jumbo bars did not fit. This is not a negative thing about the straps, just that you should be prepared to source correct bars if you're changing straps.
When the straps arrived, I was very impressed with the packaging. The straps shipped in a laser-cut wooden puzzle box, with the name burnt into the wooden top. Inside, the straps were wrapped in a coarse burlap-like fabric, which prevented them from rattling around inside the box. It was ruggedly, beautiful, prying open the box and removing the straps from their mini-Ark.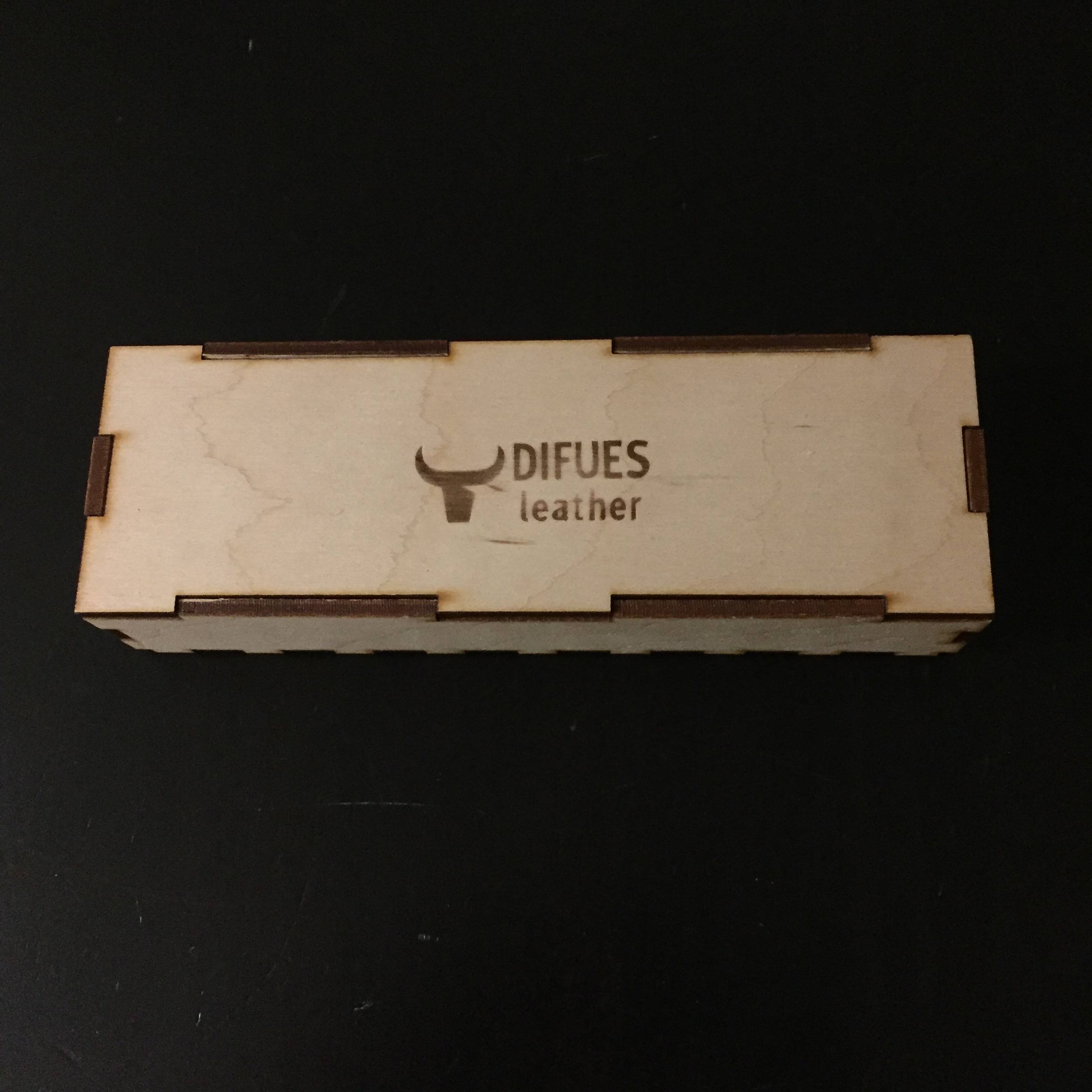 Straps are available from Max's website, by email, and all of his work is posted on his instagram site as well. The high quality and low prices make it a compelling offer, and one I have no hesitation recommending. They're very comfortable, and the straps are clearly the work of someone who cares about only putting his name on the very best work. I have worn much worse straps, of lower quality leather and poorly finished stitching in the past, but I don't think I ever will again. These are just too good.
To contact Difues Straps, use Email – difuesleather@gmail.com or purchase through Max's Online Store – https://difues.com/ (it is in Russian, but the prices are in dollars and euros, they send packages all over the world, and payment is possible VISA, Master Card and Pay Pal). Definitely browse the Difues Straps instagram account – https://www.instagram.com/difues/.