I have taken heart from the mix of watches that have been showing up as of late on the various crowd-funding sites. While there are still plenty of minimalistic three-handers populating the pages, there are others that certainly offer things we have not seen before, in terms of design elements. One of the latest to cross that threshold is Art Mécanique Watches.
At first glance, you might think that the offerings from Art Mécanique Watches are reminiscent of Anicorn, and in a way they are, with the lower half of the dial being obscured by metal. This half-cover is really where the Art Mécanique Watches set themselves apart, though. Here, we see finishes that are normally reserved for movement components (bridges, rotors, etc) popping up – either Clous de Paris, Côtes de Genève, or Perlage. This certainly makes for a good bit of visual pop (particularly, the Clous de Paris gives the look of a recent MB&F release).
As you might guess for a watch that obscures half of the dial, Art Mécanique Watches has discs spinning away under the sapphire crystal to indicate the time. Driving those discs is a Swiss automatic movement from Horlogerie Schild SA. I cannot say I am overly familiar with that house, but I have heard of them before – and being a Swiss movement, there is some level of comfort imparted from that particular appelation. With the finishing on the front of the case, you might expect to see that movement showing up through the caseback. There, again, is another spot that Art Mécanique Watches does things differently.
Instead, on the reverse of the Art Mécanique Watches models, you have an etched plate that gives you all of the relevant specs for the watch (sort of like we saw on the Division Furtive watches here and here). Depending on where you get in on the project (first 100 or after) you will have some different text showing up with regards to the serial number. While I found it a little surprising that there was no exhibition caseback showing off some more finishing, this method of showing the watch data on the back of a case is something I can get behind. For those who cannot keep their finishing techniques straight (that would be me), you will nto find a reference to that on the back, so just remember what you ordered. For bonus points, do some research into the history of that particular finishing technique, and astound your pals at the next watch get-together.
With the Art Mécanique Watches, there are a total of seven different references available, including two aimed specifically at the fairer sex. How did they do that? Well, just like every other brand tries to do it – slapping a bunch of crystal gems on the front of the watch. This is something I am rather against, as it smacks as just breaking out the Bedazzler to try and make it look different. You want to make a ladies watch? Fine, do it with adjusted color palettes and sizing, and maybe some tasteful gem accents. Encrusting the the watch just feels of a lazy tactic.
For the remaining models from Art Mécanique Watches, I do not have as harsh of a critique. They are an interesting look, and you have a choice of seven different straps. For those who do not like any of the pre-defined references, it looks like the brand will also offer you the ability to create a specific one-off to your needs for only another $32.  Basically, you get to choose your own finishing (matte, brushed, or polished, in steel or PVD) for the four components – bezel, decoration, watch case, and back plate.  These can be all the same, or all different.  You can even choose your color of discs.  Not a bad option if you wanted something pretty particular.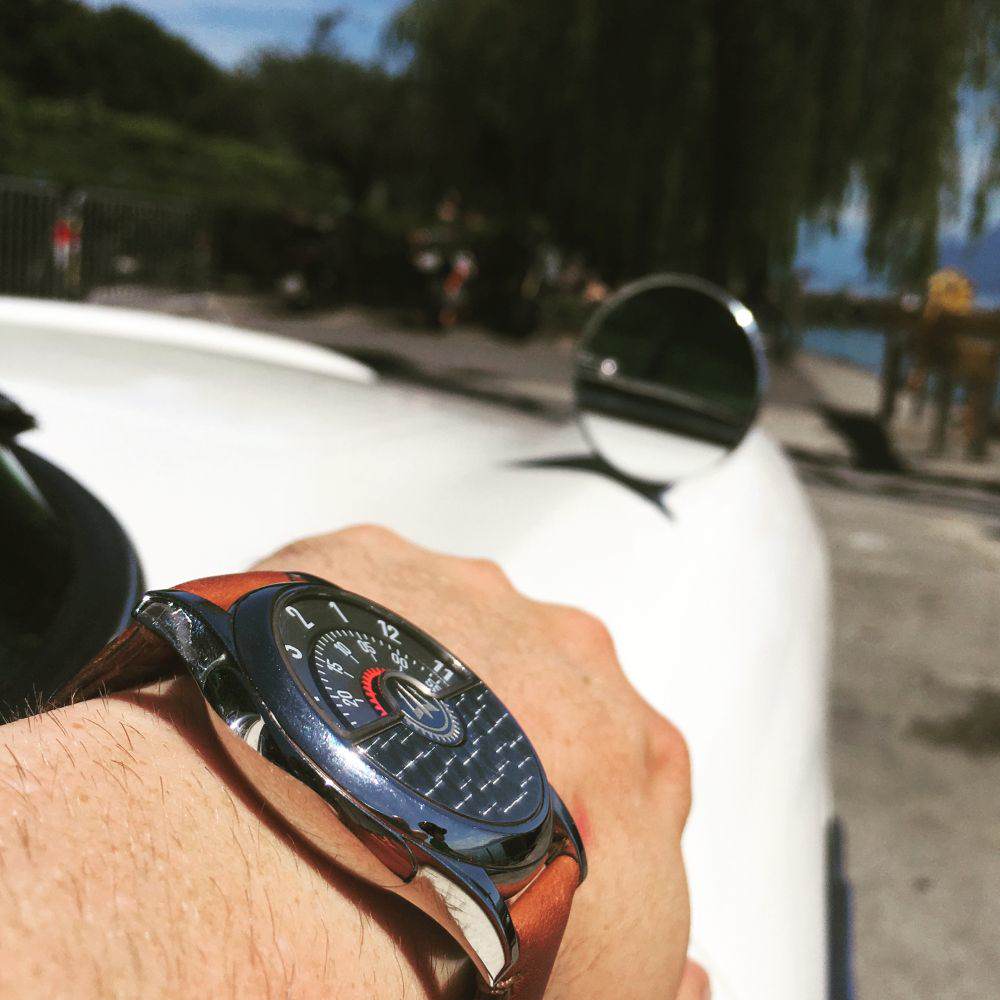 As John pointed out in his writeup over on TechCrunch, the brand has a funding goal of just over $102,000, which is rather ambitious. As of the time of this writing, funding for the project is just under 40%, with the close date marked for August 4, 2016. They're definitely something a bit different with the traditional movement finishing showing up on the front the watch. For more on the project (and perhaps to pick up your own at $400), head on over to the project page. Then come on back over here and let us know in the comments what you think about this latest crowd-funded entry.  art-mecanique.com
Watch Overview
Brand & Model: Art Mécanique Watches
Price: $400
Who we think it might be for: You are a huge fan of movement finishing, and want to see it more often
Would I buy one for myself based on what I've seen?: Nope – obscured dials aren't my thing
If I could make one design suggestion, it would be: Put down the Swarovski applicator, and figure out a design that can appeal to women without being blingy
What spoke to me the most about this watch: Bringing the classical movement finishing to the forefront