Today, we're going to be reviewing a few items from a brand that – although you're certainly familiar with them – we have never featured on our pages. That's right friends, today, we're diving into the "fashion watch" realm. Before you turn your nose up, just remember, that's the segment we all started out in, so it's worth being aware of what all is out there. Today, we're going to be reviewing the Armani Exchange AX1951, as well as a bonus two-tone bracelet.
A clothing brand?
Yes, Armani Exchange is an apparel brand, part of the Armani family. For their watches, they've turned to the experienced minds over at Fossil Group to develop their watches. Of course, Fossil is no newcomer to this game, which means you should be getting a well-sorted watch that focuses on delivering a specific look at a pricepoint. So, yes, this won't be a family heirloom, but it can still be a good looking watch, and one that will remain fairly accurate over the years, being quartz.
So, what is it about this Armani Exchange AX1951 watch?
When we were arranging for this review unit to come in, I let my contact know that I didn't have a strong preference, so I was not 100% certain what would be coming in. Lo and behold, we had the Armani Exchange AX1951 hit my desk, in all of it's yellow gold-tone glory. Now, long time readers will recall that I'm more of a silver- and steel-tone guy for watches. As I spent time with the Armani Exchange AX1951, though, I came to appreciate the hue used here.
Rather than being a very warm, golden yellow hue, it's a bit of a lighter, and cooler, gold tone that they've used here. This softened the effect – in my eyes – that yellow gold can have, while still maintaining a good foundation to offset the deep green dial.
About that dial
With watches, we'll often talk about dimensionality in a dial versus if something feels flat and lifeless. This dial is definitely not lifeless! It's got a wave pattern embossed on it (fitting the dive watch bezel), and it goes from a forest green green at the top down to an almost black tone – in a gradient – at the bottom. This further puts your mind in the frame of thinking about going beneath the waves, and how light doesn't travel as far down. And sure, you can swim with this one with the 100m WR rating, just no deep dives with it.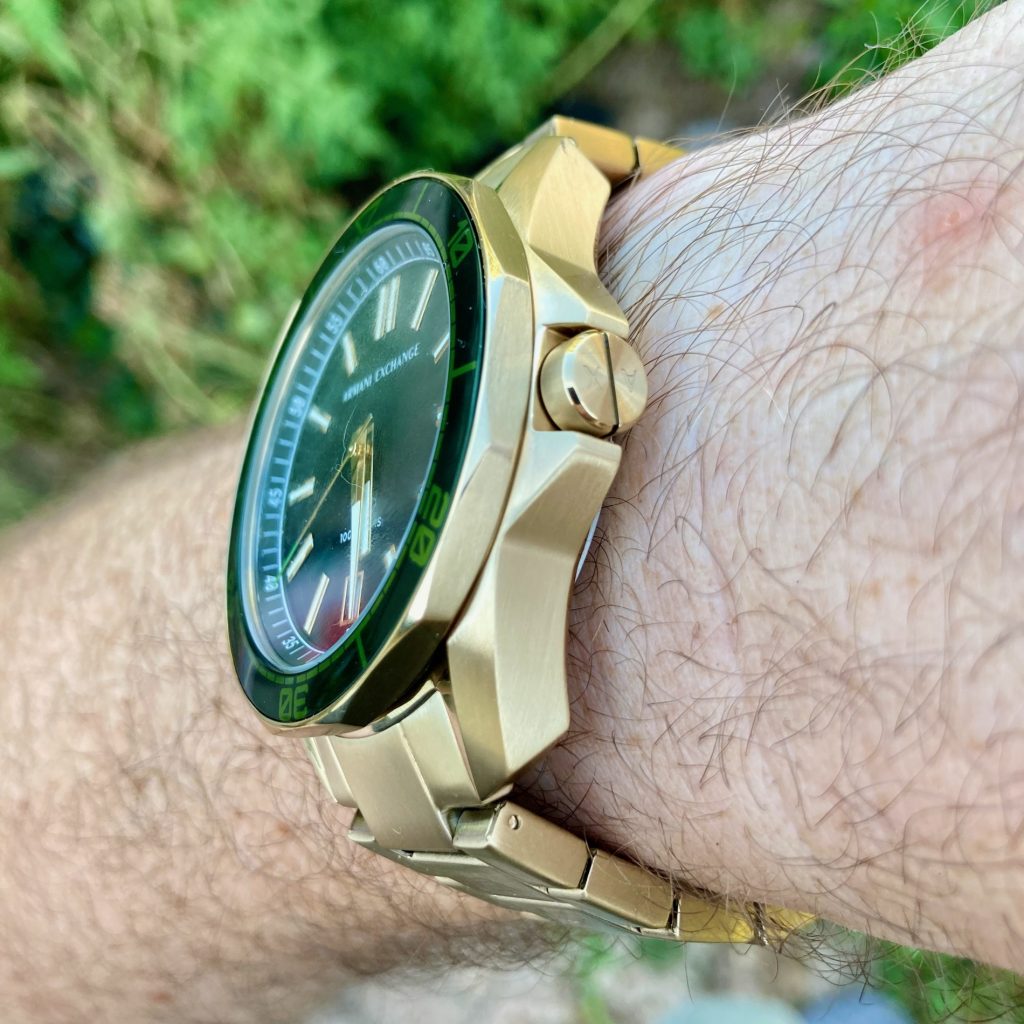 Things to consider
On the aesthetic front, the Armani Exchange AX1951 has things nailed down. The colors work well together, there's a boldness on the wrist without it being overwhelming, and there's a good mix of polished and matte finishes. In terms of where you might compare to other watches, there can be some caveats. First and foremost, the bracelet can be a little jangly.
Yes, they are solid links (held by friction split pins). Some of the noise comes from the play between the links, but it's not much. Most of it seems to come from the where it joins the endlinks. As you sit throughout the day, you won't notice it much, but if you get a bit more active, you'll hear it.
The other thing to consider here is the date display. This could just be me, but I feel the date window is a bit too small to be practical and usable. Yes, you can pick out the date, but a larger window and date disc would make that a lot more practical in day-to-day usage. Or, maybe go with a movement that eliminates that, and slims the case up a bit.
What about that bracelet?
Ah, yes, that's right – the Armani Exchange AX1951 came along with a partner in accessorization. In this case, a two-tone stainless steel number ($80) that not only gives two colors (silver and gold) on the bracelet, you also get two different styles of links in the chain. I've long considered looking for some sort of bracelet to sort of balance out the watch being on the left wrist, but have never made the leap.
As I've been wearing the A|X Bracelet, however, I've become a convert. I just like the look and feel of having something on that other wrist. Here, with the two-tone, you can opt for which tone is outward facing to coordinate things, or just let it do it's thing (there's also an all-stainless steel version available as well). Perhaps it's not for everyone, but for me, it did the trick.
How can you get an Armani Exchange AX1951?
This is where things get really interesting. While you can definitely get the two-tone bracelet directly from Armani, the watch itself doesn't show up there. For that, you'll need to head to a third-party seller (such as Amazon) to pick up the $215 Armani Exchange AX1951. armani.com
Details
Sku: AX1951
Case Size: 44MM
Movement: Three Hand Date
Platform: N/A
Strap Material: Stainless Steel
Strap Color: Gold
Case Water Resistance: 10 ATM
Case Material: Stainless Steel
Case Color: Gold
Dial Color: Green
Strap Width: 22MM
Closure: 2 Pusher Foldover Clasp
Strap Inner Circumference: 200+/- 5MM
Crystal Type: Mineral
Battery Type: SR626SW
View the video version of this post here:
Author Expertise
Patrick Kansa
A big data developer and leader with a penchant for gadgets, books, watches and beverages. You can find my work on WristWatchReview. If you're on Twitter and/or Instagram, you'll find me there as @PatrickWatches.