Mom has had her day, and my birthday has come and gone, but it is not too early to start thinking about gifts for dads, and since it is late spring, gifts for grads as well.  In this Fathers Day gift guide, I am going to point out some of my favorite watches and accessories that have crossed our (real or virtual) desks over the last few months, organized by price.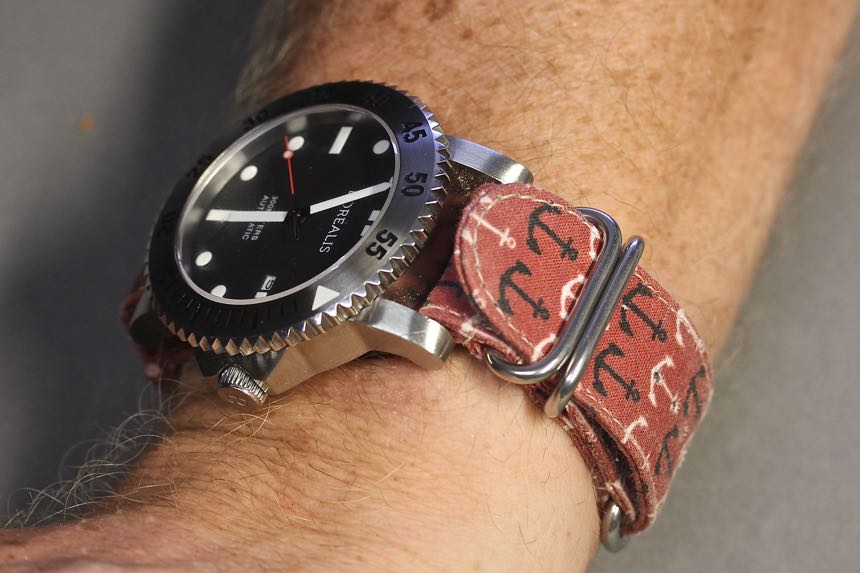 One of the least expensive ways to breathe new life into a watch is by swapping out the strap.  Earlier this year, I had the opportunity to check out the waxed canvas straps made by Suigeneric, and I really liked them.  In fact, it turned a watch that I liked but rarely wore into one of my default weekenders.  The spring collection runs at $35 per strap, and sale straps start in the $20s.
If you want to go with leather, Patrick recently checked out the custom leather straps by 74 Watch Straps.  Prices there start at $88, so for under $100 you can pick up a really nice custom leather strap.  The process of ordering a strap takes time, with a lot of custom measurements, so this is probably something you are going to gift and then dad is going to order after the fact, as opposed to something he just unwraps.
Crossing the $100 barrier, there are some interesting watches available.  Project Watches specializes in design-driven affordable watches, and the Outside Watch at $130 is certainly worth a peek.  The specifications on the quartz watches produced by the brand are not outstanding, but the designs are unique and different, while still being accessible and readable.
If innovation is more up Dad's alley, then the Swatch Sistem51 for $150 would be a great gift to consider.  Sure, you have an acrylic case and crystal, but the Swatch group created a completely new automatic movement for the watch.  The brand recently updated the available styles for the line, and I think these new options give the watch a much greater reach across the watch buying public.  This is a gift that can also work with grads of both sexes for high school or college, with a lot of color options.
Probably the best value watch that I have had in my hand this year is the AVI-8 Hawker Harrier II, a vintage military design with Miyota 8215 automatic movement.  The US retail outlet has them on sale for $225 to $230, and as I wrote in my review, this is a no-brainer decision for me.  You may also want to peruse Amazon, as they often have some deals on AVI-8 stock.
For about $260 – $270 (check the current exchange rates) the Ziiro Eclipse is an interesting option, especially if you are shopping for a graduate.  The exterior ring glows like the corona of an eclipse, and the watch shines in the dark.  There are multiple color options here as well, so this definitely would work for any grad.
Taking the next step up to about $500, I really like the looks of the Benarus Vintage Moray, which Patrick previewed in April (editor's note:  full review is in the works).  I am a fan of the brand, and this watch hits the right vintage notes for me, with the capabilities and reliability of a modern automatic diver.
Though it is a stretch for some to think of a $600+ watch as a value, I think the Archimede Deck Watch is exactly that.  OK, I do love the blued hands, but I also like the fact that you are getting a German watch with a Swiss ETA hand wound movement.  This is a watch I would consider an heirloom quality product.
I was actually jealous that Patrick was able to check out the Tempest One Carbon Watch, since I only was able to look at the images from the Kickstarter project for my preview.  We are jumping price again to nearly $900 for this watch, but, as Patrick pointed out, "this is an affordable micro-brand diver unlike any you have seen before."
If dad is a Trekie, then the Egard Passages may be the perfect watch gift, though it boldly goes where no watch on this list has gone before, over $1,000.  The watch was made in partnership with William Shatner, and bears his signature.  With the complex curves of the case, it is also going to be a very unique watch in his collection.
Now that we have pierced the $1,000 wall, I will talk about the Christopher Ward C60 Trident GMT, a watch I got to wear for a bit.  The GMT is one of Patrick's and my favorite complications, and it integrates really well with this attractive and capable diver.  At $1,100 to $1,200 it is not an inexpensive option, but there is a whole range of C60 Tridents, starting at $415.
So there you have it for my Fathers Day gift guide for 2015.  If nothing here tickles your fancy, look at the gift guide for 2014, or the Christmas guide for last year.  This year's recommendations ranging from $35 to north of $1,000, and all the products were reviewed this year.  The two from this list I would most like to receive are the Archimede Deck Watch and the Tempest One Carbon Watch, though I would toss in the AVI-8 Harrier Hawker II if I did not already have one.  Sound off below if I missed one of our reviewed watches you would love to get.