Yes, that's right – we have gone "hands off" with our review of the Mr Jones Chatterbox. Well, sure, we have spent time with it, so we have truly gone hands on. But the watch itself, you see, does not have any hands. Then again, since you read our earlier writeup you already knew that. Maybe a better appellation would be hands free. Not that there is any tech involved here, bluetooth or otherwise, just a simple automatic movement with some rather clever art. Ok, that is about enough of my rambling around, let's get on with the review of the Mr Jones Chatterbox.
What struck me first about the Mr Jones Chatterbox was not so much the dial, but its size. It is one thing to read "37mm" in a spec sheet, but quite another to actually see it in person. On the wrist, while it did feel compact, it did not seem like it was overly small. This is due to the extended almost wire-like lugs that come out from the steel case. When you consider that this gives a lug-to-lug measurement of 46mm, then you can better understand why this does not have to be a watch for a smaller wrist. Tucked into those lugs is a metal mesh strap. While it may not be as luxurious in appearance as some others, this style of strap certainly gets the job done. Additionally, with how you can adjust the clasp position to wherever you want (no preset spots), you can get the precise fit to your wrist.
The star of the show, for the Mr Jones Chatterbox, is of course the screen printed dial. It is a rather colorful explosion, one that gives the watch a much more jewelry-like feel to it. By this I mean it has the feel of the sort of colored glass or painted baubles you might find at the local street fair, turned up by artisans in the area. It is a bit of a shame the art is tucked into such a small space, as it makes it difficult to appreciate – and see – everything that is going on; perhaps they can come up with some prints of the pattern.
Also difficult to see – at least for my eyes – was the time. Constrained a bit by the smaller case, and the stylistic elements, the openings for the hours and minutes are on the smaller side. In a well-lit room, this is not so much of an issue. When things get a bit dimmer, however, it can be tricky. It is also worth calling out that, while some of the hours are represented by numerals, others rely on text to spell the hour out. Given how small a space you're working with, this is again tricky to read. Some of the color choices on the hours disc – while giving it some variety – again impact readability.
While focusing on the hours portal – and setting the watch – I will note that it is rather a treat to watch the hours jump from one to the next. As the minutes (eyes) spin around, you can see a slight line come across the hour, and then – pop! You're now into the next hour. This is of course driven by the ST1721 automatic movement (which I believe is a Seagull movement). I found it to be rather smooth winding, and saw no issues with manipulating the crown or having it keep time in my admittedly brief exposure to the watch.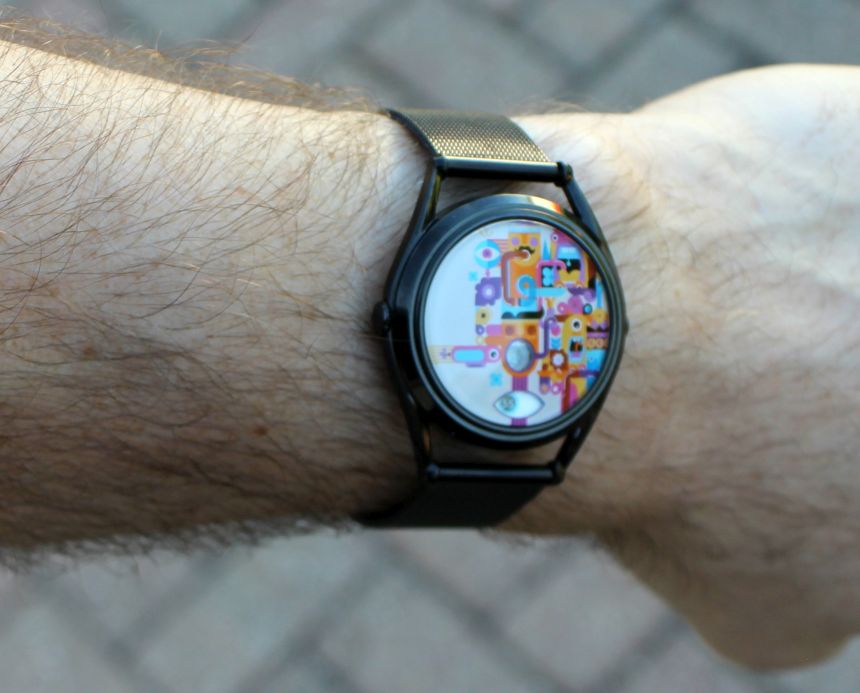 I will say that, with the Mr Jones Chatterbox, I was glad to get to see a watch from the brand in person. I have long written about them, and Matt got to check one out earlier. As a more art-oriented piece, the $260 watch meets it's goal. Looking at it from purely a time-telling perspective, it did feel like it missed the mark a bit in legibility. Perhaps that is one of those sacrifices one makes for art, but for me, I see a watch as a tool first, with aesthetics coming in second to utility. I realize that others will have different opinions (so be sure to share those in the comments below), and I have no doubt that the 100 pieces of this limited edition will get snapped up. mrjoneswatches.com
Review Summary
Brand & Model: Mr Jones Chatterbox
Price: $260
Who's it for?: You find yourself drawn to a world of art and graphics, and want a watch that reflects that sensibility
Would I wear it?: In the end, not really – I just had too much of an issue reading the time at a glance
What I'd change: For the hours opening, it could stand to be enlarged, and be printed with a brighter/bolder font and color
The best thing about it: How much of an art watch this truly us – if you see one, get up close and personal with the dial, it is a treat
Tech Specs from Mr Jones
Case: PVD coated 316L stainless steel
Mechanism: ST1721 20 jewel automatic mechanical movement
Strap: black woven stainless steel
Width (3 o'clock to 9 o'clock): 37mm
Height (from lug to lug): 46mm
Waterproof: 5ATM