Back in December, we brought you word of the first automatic watch coming from Minuteman Watches.  While they are still officially in a pre-order phase for the watches (which ends April 30th), we were able to spend some time with a prototype of the Minuteman RWB.
One thing we did not cover in that initial writeup was why the Minuteman RWB is called what it is.  Turns out, it's a pretty simple thing – RWB = red, white, and blue.  Red on the seconds hand, and white and blue for the major color scheme.  It's also fitting given the heavy lean on patriotism that the brand has in all of it's marketing, and that the watch is assembled in the good ol' US of A.
As a matter of fact, Minuteman calls Illinois home, just as I do.  I've no idea if that helped us get time with the prototype, but it certainly did not hurt.  Just as we've done with many a brand, when we come across a small brand doing something interesting with their designs (and sometimes the business model, as Minuteman is committed to veterans), we like to champion what they're doing.  Sometimes, those efforts turn into fun opportunities like we have today.
As I felt in my initial writeup, the blue dial looked to be a clear winner and – in the steel – it most certainly is.  In fact, when I showed it to another watch nut at my office, that blue dial was the first thing he commented on.  Housed as it is in the 42mm case with a relatively narrow bezel, you see a lot of blue, which then sets of the crisp white printing on the dial quite well.
What you might expect is that all of that white is lume – and while a lot of it is, it isn't all luminous.  Basically, the handset and the hour indices are lumed; everything else is just plain white paint.  While this would make for a clever (if tricky) paint process, you know me – the more glow, the better, so I would not mind if all the white paint went luminous.  In discussions with the brand, though, this was a decision made as lume performance simply would not be good – at all – for those smaller bits and numbers, so they went with the route they did.  So, nothing to change there – but do want to give some focus to the handset as well.
Again, this is a prototype, so there's a chance that this might change around a bit.  As you should be well aware by this point, us watch writers can tend to be a bit picky about handsets, particularly sizing and proportions (you see enough watches, you get a good handle on what looks and feels "right").  On the Minuteman RWB, I've no problems with the minute hand on it's own – it's a great length (hits the right spot on the outer track), and a nice width.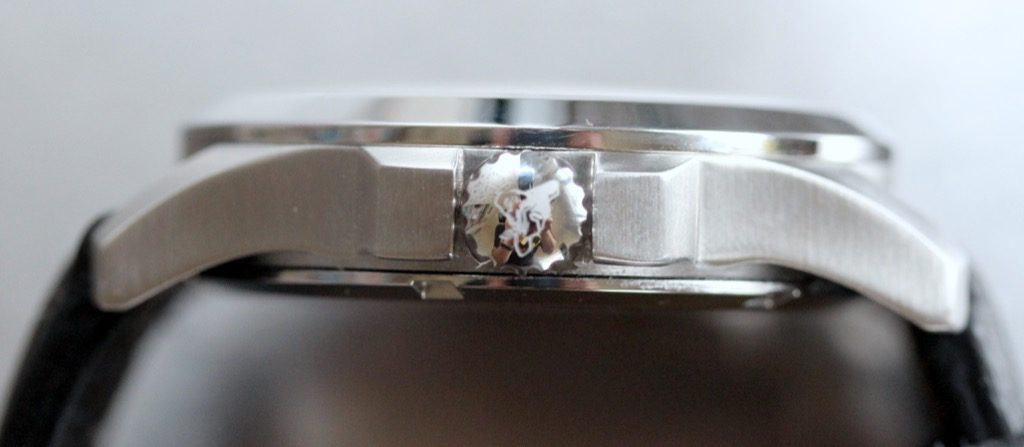 Where it breaks down a bit for me is the hour hand.  For starters, it is just too short.  I'd prefer it to reach out at least to touch the inner circle, if not overlap it slightly.  Then, in relation to the minute hand, it actually feels like it might be a tad narrower, which just defies all convention.  Swap out that hour hand for something a bit longer and wider, though, and I think you're spot on, as the minute and seconds hands are great.
Ok, I've been nitpicking, I'll admit – but that's how we help the watches get better, as well as help you, dear reader, learn about things to keep an eye out for, and help develop your own tastes for what you like (and if you disagree with me on the hands, be sure to let us know below!)  Now, back to the things I liked a lot with the Minuteman RWB.
As mentioned, the dial on the Minuteman RWB is a beaut, and it's reverse-filled compass point indices call to mind several other designs – those not exactly, so it's not copying.  Informed, perhaps.  This is all tucked into a 42mm stainless steel case that has a polished bezel and brushed sides and lugs.  For a sport watch (aka something not fully a dress watch), this is a finish combo I rather like.  You get a bit of a shine from the bezel, but by and large you're not walking around with a fingerprint magnet.
Wearing the  Minuteman RWB to the office and around the house, I found it to be a good everyday sort of a watch.  It's got all the details you reasonably need in a watch (time and date), and it's easy to read the time quickly.  The included black leather strap (from Hadley Roma, so another US-sourced component) also fits the watch well.  I wouldn't say this about many for a bomber jacket leather sort of a strap, but that military influence just works for what the brand is going for.  Oh, and at just 10mm thick, this is a great fit and size for an automatic watch (Miyota 9015 for those keeping score at home).
As I mentioned at the outset, the Minuteman RWB is currently in a pre-order phase.  While retail pricing is anticipated to be $600, you can get in on the pre-order at just $369, with needing to put $129 down now.  The pre-order phase is going to close June 1st, and then the balance will be due when production starts up; shipping is anticipated for September of this year.  Oh, and that pricing stays the same across the three color schemes (all with different model designations – Darby, Gray Ghost, and RWB); if you would prefer a PVD finish, you can get that for an additional $30.
My time with the prototype Minuteman RWB was rather enjoyable – the blue dial is a stunner, and there's a lot that I feel is done right (just some tweaks to the hour hand and the lume are needed in my book).  It's fun to watch a new brand come along, and especially to be trusted with one of their first prototypes.  With a proven (and affordable) movement driving things here, I'd say the Minuteman RWB (and it's stablemates) look to be a good watch to think about picking up.    minutemanwatches.com
Review Summary
Brand & Model: Minuteman RWB
Price: $369 in brushed finish; $399 for PVD (pre-order pricing; $600 RRP)
Who's it for?  You're on the hunt for an affordable everyday watch
Would I wear it?  Indeed I would – though I might search out a brown leather strap for those lugs
What I'd change: As I said in the review, the hour hand needs some adjustment, and a small tweak to what is lumed wouldn't hurt either
The best thing about it: It's got to be that dial – it's a sharp blue, and the combo with the crisp white is a great look
Tech Specs from Minuteman
Proudly assembled in the USA by Minuteman Watch Co.
Stainless Steel case with black DLC finish
Double domed sapphire crystal.
Clear type A/R coating on the inside of the crystal.
42mm width without crown.
46mm length
10mm thick
Screw down crown.
200 meter water resistant.
American made Leather strap 22mm width
Miyota 9015 automatic mechanical movement.
Luminous hands and dial.