It's been awhile since we've had Hager on our pages, but that hasn't stopped them from producing new and interesting models. In a recent batch of loaners we had come in from them, there was one in the box that I was surprised to see, as it wasn't a model that I could find on their page. That is, until a little later and the Hager Interceptor was revealed.
So, where's the inspiration for the name of the Hager Interceptor? That would be none other than the F-106 Delta Dart, also known as (wait for it) "Ultimate Interceptor" (you can read more about the plane here and here). In terms of how that's reflected in the watch, the most obvious is the red-tipped seconds hand, which has the profile of the plane. Around back, the caseback has a badge set into it that looks rather like the flight suit badge that would go to the plane.
Now, speaking of looks, let's address the obvious thing: theHager Interceptor looks very much like a Bell & Ross. I mean, you have the square case with fasteners, the flared strap at the lugs, and, well, yeah. It looks like a B&R. But the watch proudly proclaims itself as a Hager, so this is more in the realm of a homage, or inspired-by, watch than being a clone.
I've never worn a B&R, so I was very pleasantly surprised by just how comfortable theHager Interceptor was on the wrist, and how well the sizing fit visually. It's a 38mm squared case, so it doesn't overwhelm the wrist, and with a 11mm height, it's just nice and compact. Once I had it on my wrist the first time, I just about didn't take it off for a week.
I know, I surprised myself by just how much I liked theHager Interceptor. These days, my watch style tends to go towards the more classic (verging on dressier) with the occasional tool watch in there, but something about this watch just clicked with me. Some of that is helped along with the blue dial and strap, but it can't just be attributed to to color. It's a unique design (circle in a square) as compared to what I normally wear, so you get that mix and change to the accustomed. Then, the dial itself is clear and legible, and I've always liked a sandwich dial (ala Panerai and the like). In short, there's a lot of details here that just clicked for me, and it was different enough from my normal wears that it ws a refreshing change of pace.
The movement inside theHager Interceptor is another one we may not be familiar with – the MD 7081. If you're curious about the movement, check out this page, as it looks to be an ETA 2824 clone, assembled in Switzerland. So, not full-on ETA, but should give you the same reliability and accuracy. Oh, and ability to be serviced.
As for the strap of theHager Interceptor, here again you've got the BR inspiration, in terms of the shape and taper. It flares out nicely at the lugs to fit the wider look of the case, but then tapers down (from 22mm to 19.5mm) at the wrist to make for a more comfortable fit. It's a great, tidy little strap, and I think if I were to own one of these watches, I'd be finding some other custom straps out there to match the flare and taper, and mix things up a bit.
At the end of the day, I was very, very pleasantly surprised by how much I liked theHager Interceptor. You get a sporty (read: more casual) look with an aviation linkage built in, along with a Swiss movement and a super compact wear for a square case. Best part, you can pick one of these up (in the blue which we reviewed, or black) for $865, which seems like a good value to us for what you're getting (not to mention, a good deal cheaper than that other square-cased watches). Check it out, and order your own, over at hagerwatches.com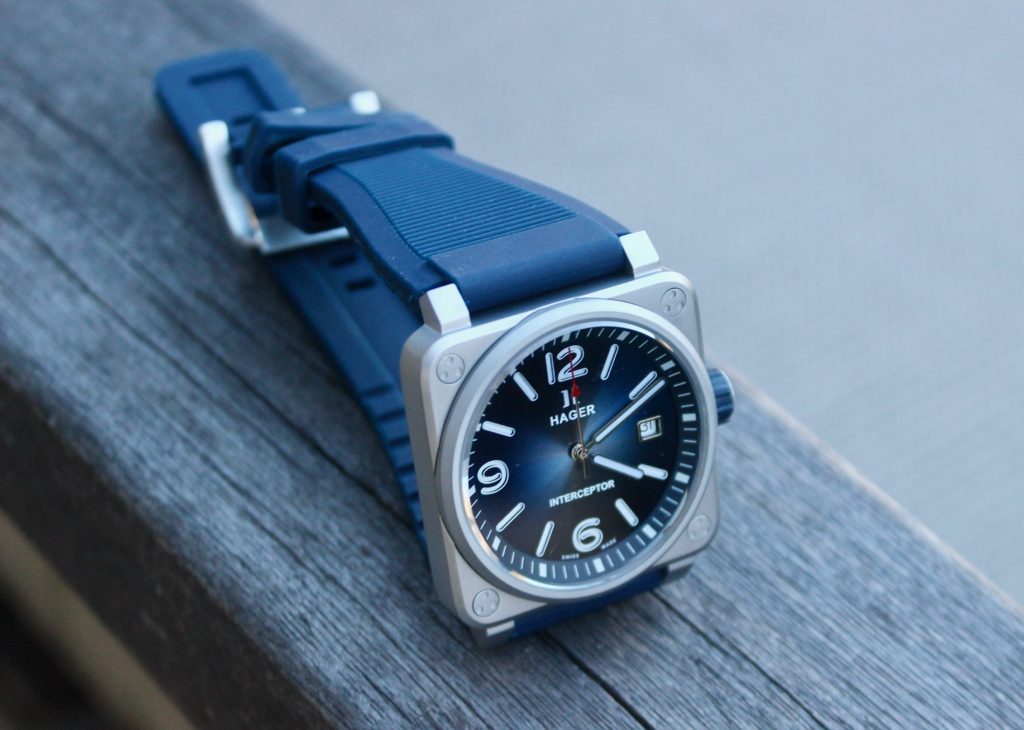 Tech Specs from Hager
Case  

Case Height: 38mm
Case Thickness: 11mm with three hole security screws
Case Length: 47mm
Crown: 6.8mm
AISI 316L polished steel
Scratch resistant domed sapphire crystal with anti-reflective coating (AR)

Dial

The hours are indicated by applied indices, mixed with SuperLumiNova® 6, 9, and 12 o'clock numerals and hour markers.
On the right-hand side of the dial is a framed date window, showing a white-on-black date disc. The rehaut is sloping and marked for the minutes, with thicker strokes used for the 5 minute intervals.
The black dial has a brushed finish.
The blue dial is a fume sunburst finish.
The sweep seconds hand is in the shape of the Delta Dart.

Movement: MD 7081 with 40 hour power reserve assembled in Switzerland in accordance with the 60% rule
Functions: Hours, minutes, seconds
Bracelet: Woven black rubber. Band Width: 22mm tapers to 19.5mm
Water Resistance: 10 ATM = 100m