Did you know that the Hawaiian Lifeguards have their own association? Well, friend, they do, and there's even a watch out there that can help fund their efforts – the Hawaiian Lifeguard Association Watch. We recently spent some time with one, and can give you the rundown on this familiar-feeling watch.
How is the Hawaiian Lifeguard Association Watch familiar? To me, the handset feels very much like a Citizen as do the dial indices, and Victor pointed out that the bezel also hearkens back to that brand. That all said, it's not like I can point to a specific model that this one is like, so it's just that itch in the back of your mind.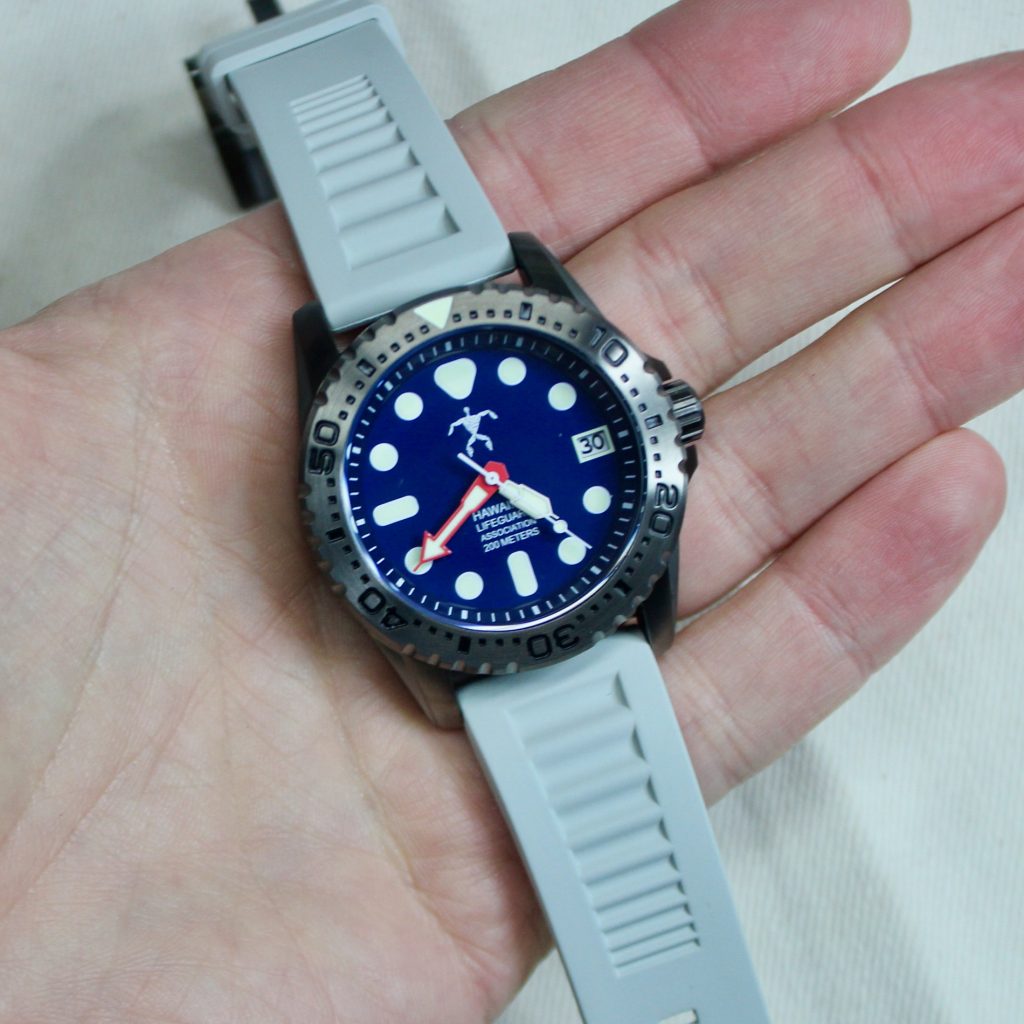 The Hawaiian Lifeguard Association Watch is very much a dive watch, which makes sense for something tied to lifeguards. The large pip on the bezel paired to the orange minute hand allows you to easily time things, and the 200m WR rating means there's not going to be any issues heading into the waves (same goes for the chunky rubber strap).
As a dive watch, legibility is key, and it's coming up aces here. The indices are large and bright, making it easy to pick out the time, day or night. Interestingly, while there's no indice at the 3 o'clock mark, they did lume the date window cutout, so you do get that mark (in a way) when the lights go down.
For a quartz-driven watch, it's a little surprising how thick the Hawaiian Lifeguard Association Watch actually is. Sure, water resistance plays into that, but you'd think it'd be a touch thinner. Fortunately, the lugs curve down, keeping the strap close to your wrist. Then again, perhaps chunky is just part of the theme. You've got the thicker case, you've got a fairly hefty rubber strap, and then you've got a chonky buckle on the bracelet as well. All the better to catch some gnarly waves?
As far as dive watches go, the Hawaiian Lifeguard Association Watch hits all the right marks you'd want design-wise. At $250, you getting into an area of affordables where you've got quite a number of options. I think this particular watch is going to be those who are maybe lifeguards themselves, or just have a soft spot for the island state. Check out all the variants over at hlawatch.com.
Tech Specs
Steel Case / Blue Dial / Black Strap
42mm 316L Brushed Stainless Steel Case
Unidirectional Rotating Timing Bezel
Screw Down Locking Crown
Screw Case Back
Thick Lume on Hands and Dial Numbers
Japan Quartz 3 Hand + Date Movement
K1 Hardened Mineral Crystal
22mm Rubber Strap with Signature Buckle with Easy Change Pin
Watches comes with Black Strap.  Red and Yellow are available for separate purchase
200 Meters Water Resistant