I realized something the other day – for the all the focus we give (ok, it's sporadic, but it is focused) on the things we haul around every day (you know, EDC), there is something that is indeed a constant companion.  Aside from my wedding ring, I think the item that is with me the most – and used the most, on a daily basis – is my Contigo West Loop mug.
I know that talking about a coffee cup is not watch related, nor is it men's style.  But you know what?  I don't care.  I like this mug so much, I just wanted to get a quick piece up about it.  As an avowed coffee consumer, I have had a variety of travel mugs over the years, with different insulating methods, and different ways of closing out the lid.  On both of those counts, I've found my Contigo West Loop to be aces.
Ok, both of my Contigo West Loops.  You see, I had one for several years (a nice, shiny blue one) but I lost it a month or so ago.  Well, that could not stand – once it was clear it was not showing up in the lost and found at the train station, I immediately headed over to the 'zon to pick up a new one.  I stuck with blue, but this time around went with the matte finish.  Aside from looks, this had the unexpected benefit of not being quite a slippery.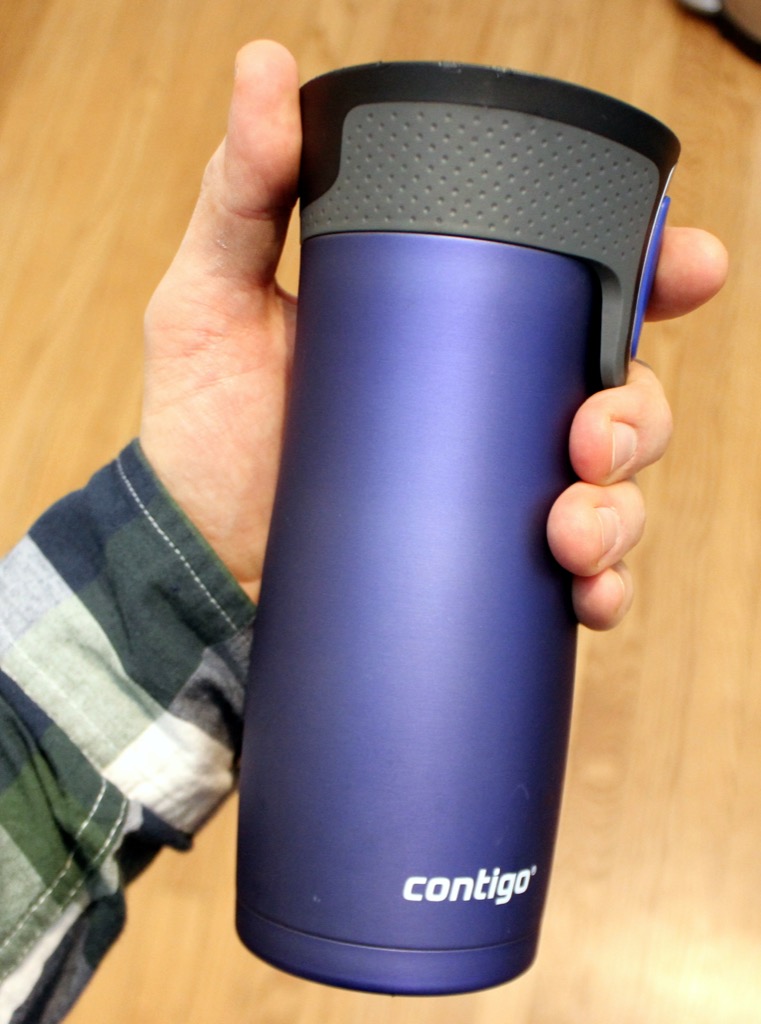 One of the great benefits of Contigo West Loop is how long it can keep that java hot.  Their official specs list it out as 5 hours (12 hours if you're interested in keeping things cold instead), but I have never had my coffee last that long.  The biggest benefit for me is that it allows me to drink my coffee more slowly, sort of spread out the caffeine hit.  With a regular, open, mug, you've got to drink it fast before it cools down.  With the Contigo, I can easily drink the contents over the course of an hour or two, and have it still be much over room temperature.
The insulation of the mug has a lot to do with that, but the spill-proof cap of the Contigo West Loop is also in play here.  Rather than a portion that you twist or flip open, or a button you press once to open, and then again to close, we have the "Autoseal" in play.  What this is is that when you press the large button, it opens up the stopper – let go of it, and it closes back up.  If you really want to prevent leaks, there's an additional lock you can flip on the top of the lid that prevents the button from being pushed.
What about cleaning the lid?  That's actually pretty important, given how the cap seals itself.  Cleaning is something that has become easier in the last year or so. A portion of the Autoseal mechanism can flip out, making it much easier to clean the inside of the lid, particularly the bits that do the sealing.  Definitely a big plus, when compared to the old way the lids worked (no easy clean), or even to how some of the other lids in their lineup work.  Cleaning is quick and easy, and then you leave it flipped open, which helps it dry more quickly as well.
In short, I can't imagine going a day without my Contigo West Loop at my side, keeping me caffeinated.  They're available in two sizes (16 oz and 20 oz), and a variety of colors, both glossy and matte.  Pricing generally hovers around the $20 mark, though you can often find deals both on Amazon and direct from Contigo that will drop things under $15.  For something that is used daily, and has lasted for several years (and would have gone longer had I not lost the first one), that's a bargain in my book.  gocontigo.com
Product Specs from Contigo
Volume:16
Price:$20.99
Width:3.0
Height:7.8
Lid Material:Bpa-Free plastic
Body Material:Stainless steel
Heat Insulation:Up to 5 hours hot
Cold Insulation:Up to 12 hours cold
AUTOSEAL® lid:Yes
AUTOSPOUT® lid:No
Button Lock:Yes
Carrying Clip:No
Top-rack dishwasher safe lid:Yes
Top-rack dishwasher safe body:No