Over the last year, we've written about a few different watches from France-based Baltic Watches, including their dual-crown Aquascaphe and their quite delicious micro-rotor MR01. What we had not done, though, was actually see one of their watches in person. Well, a few conversations with the friendly folks over there, and we were able to bring in a loaner of the Baltic Aquascaphe GMT.
Surprising no one, when I was perusing through the catalog, it was that GMT that caught my eye. Then it was difficult decision time – which bezel color to ask for? While I'd probably opt for the blue-and-grey if I were buying it for myself, I felt that blue-and-orange one would pop nicely for the photos (as would the blue-and-green, I suppose), so that came on in. Doesn't hurt that it approximates Chicago Bears colors now, either, does it?
As my tastes in watches have adjusted over the years, I've come to appreciate smaller-diameter watches. My own GMTs that I wear regularly are 42mm and under, so this 39mm Baltic Aquascaphe GMT felt much at home on my wrist. Unlike the GMTs I've got in my watchbox, the Baltic presents very much as a sort of vintage-inspired dive watch that just so happens to have globe-trotting capability built in. And really, I feel that's sort of the sweet spot for the Baltic designs – modern takes on watches from 60+ years ago.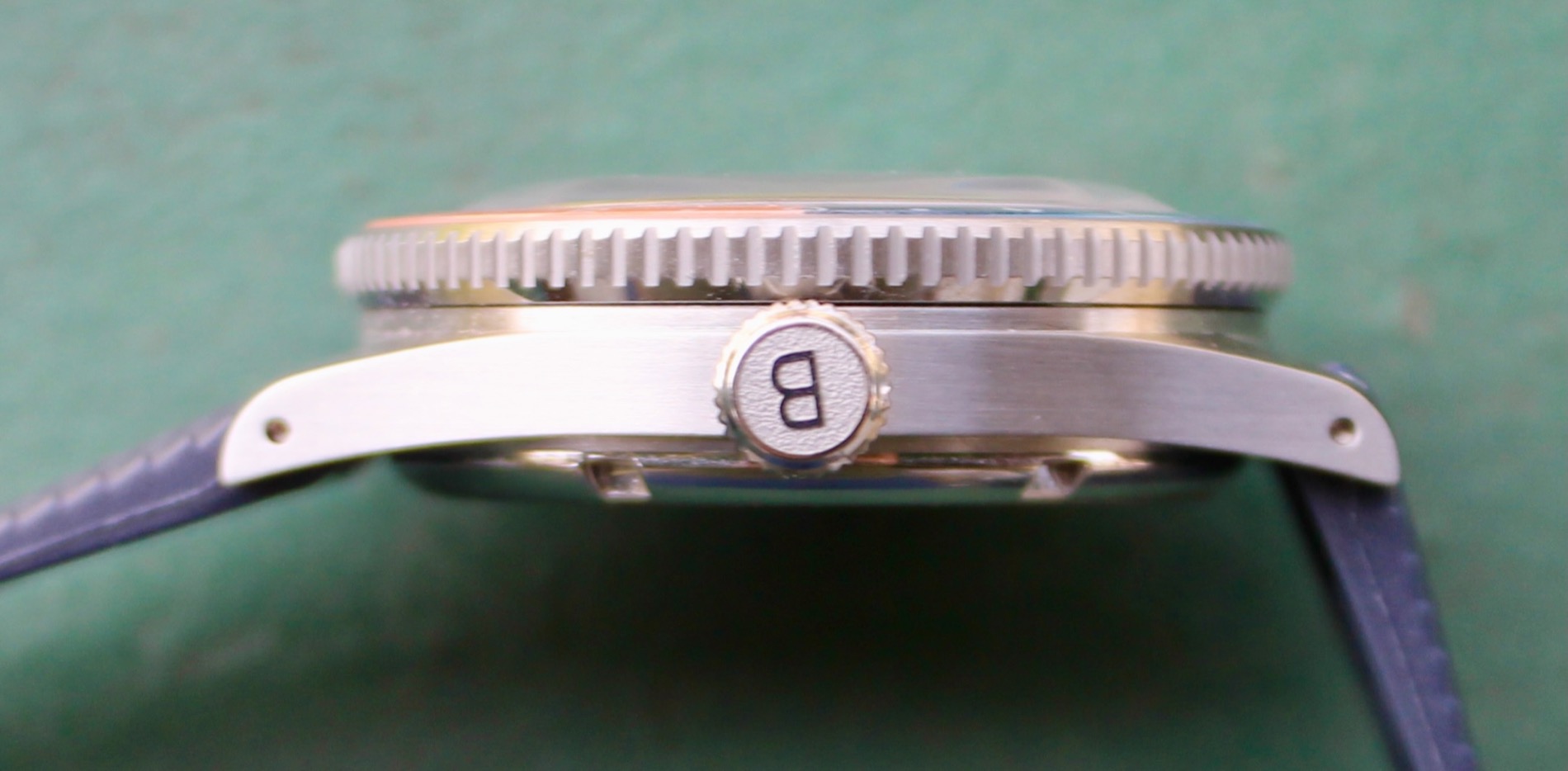 With the Baltic Aquascaphe GMT, that's driven a bit by the dial and it's handset and indices, and further reinforced by the domed sapphire crystal that sits just above the surface that the sapphire bezel is at. when viewed in profile, that vintage feel is hit again, with a slim main body, from which the bezel (and crystal) protrude, as well as the screwed-down case back. Still, for all of that, it still comes in at just 12mm thick (including the crystal) which makes this a very wearable watch.
Sure, the Baltic Aquascaphe GMT is a tool watch, but given its compact size, and that slick top surface (all sapphire!) it was super easy to slip under a shirt cuff, and dress up (their grains-of-rice bracelet, about $84, would do so). The included tropic strap worked well for that, but I also played around with putting some of my own straps into the 20mm lugs, so you could certainly make this watch your own, and coordinate it to whatever you happen to be wearing.
Packed into all of that lovely design is the Soprod C125 movement. This is a movement that is used in a few different watches, and offers a quick-set GMT hand (rather than the hour hand), so this is not considered a "true" GMT movement. But as I've said before, if you're like me and not traveling a lot these days – and rely on the GMT hand to track UTC server time – then it's not that big of a deal. In my time with the watch, the movement kept good time, and I didn't run into any problems with the power reserve unless I had it off the wrist for a few days.
You do have to wonder, who exactly is the Baltic Aquascaphe GMT aimed at? I mean, sure, a GMT nut like me is going to go for it, but what sort of characteristics would we think this is aimed at? For one, if you're considering Baltic, you've got a thing for vintage look, but also prefer modern reliability over a true vintage piece you need to baby. For this specific model, you're also drawn to the look of a diver, and the overall capability of a tool watch. We've only got 100m WR here, but that's more than enough for a dip at your local pool. And then, of course, we've got that GMT hand in there helping you track a second time zone along with the bezel. So, a few specific attributes to it, but it's not a terribly narrow window (and if you don't like a GMT, there are other Aquascaphe models).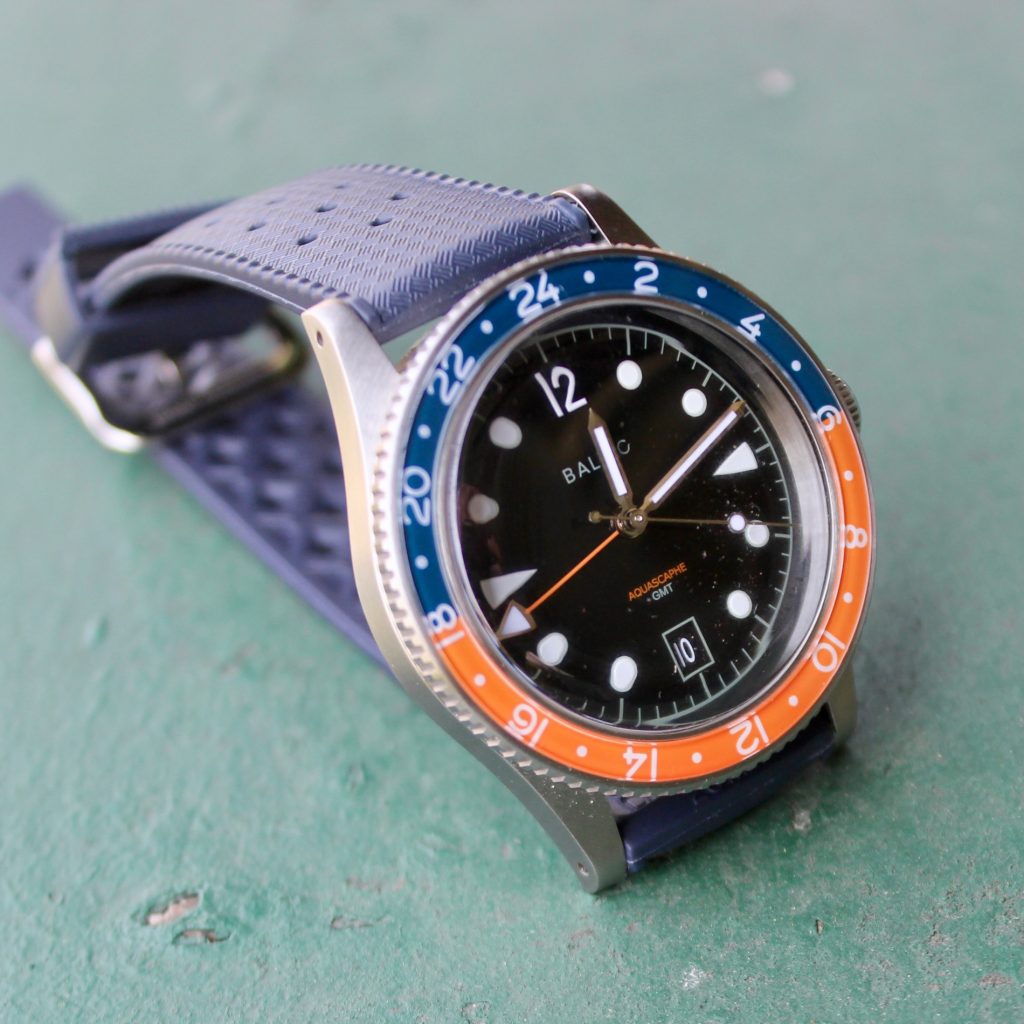 For myself, there was just a lot that simply clicked for me with the Baltic Aquascaphe GMT. Sizing, functionality (don't forget the date display!), and that pop of color on the bezel and hand, all great. Fit into the overall look and feel of it, and I could see this easily being a top choice everyday watch. The best part is that the Baltic Aquascaphe GMT is only $970 (€920) on the strap, which is a solid price for a watch as well-sorted as this one is. For it being their flagship line, it's very approachable and attainable. If you like GMTs as I do, you really should check them out. baltic-watches.com
Tech Specs from Baltic
STAINLESS STEEL 316L CASE
BIDIRECTIONAL SAPPHIRE BEZEL
24 CLICK and 24H SCALE
DOUBLE DOMED SAPPHIRE GLASS
BLACK, "GLOSSY" FINISHING DIAL WITH C1 LUMINOVA
39MM (diameter) X 47MM (lug to lug)
LUG WIDTH : 20MM
THICKNESS : 12MM (Glass included)
AUTOMATIC SWISS MOVEMENT SOPROD C125 GMT
SCREW DOWN CROWN
WATER RESISTANCE : 100M (10ATM)