Today, we're going to break the mold a little bit. While we've been moving our smartwatch content over to Knapsack as of late, this is one review that seemed like it was a better fit here. Why is that? Well, while most WearOS smartwatches I've had in can feel much the same, the Mobvoi TicWatch Pro 3 Ultra GPS actually has some new tricks hiding in it's 47mm case.
To give credit where credit is due, I first became aware of the Mobvoi TicWatch Pro 3 Ultra GPS when my buddy Dan was showing me his. What he said that really caught my ear was "dual display". And that's precisely what this watch has. Often, with WearOS, you have to choose between an always-on display (that just kills the battery) or one that turns off, and you rely on an accelerometer or button press for it to tell when to kick on. Mobvoi has gone in a different direction.
The bright, colorful screen, that's the standard look we expect on a smart watch. It's bright, it's customizable, and can look like just about everything. When that power-hungry screen turns off, however, there's something running that looks like an old-school digital watch. It gives you the basic information you need, such as date and time, and not much more (when you're exercising, it will also give you your heart rate and tell you if GPS is active). Oh, and it's backlit as well. This is really a super-clever way to extend the battery life while enhancing your ability to actually use the watch.
It's that low-power screen that can allow the Mobvoi TicWatch Pro 3 Ultra GPS to run for up to 45 days in Essential mode. Sure, you won't have your phone notifications and heart rate monitoring to get to that duration, but it sure beats just having a dead watch that can't even tell the time, isn't it? In more practical usage, I was getting 2 – 2.5 days between charges. This is with using GPS to track my jog in the morning, having it sampling my heart rate and blood oxygen throughout the day, as well as having it pop up the notifications from my phone. Obviously, if you dialed some of that down, you could extend things a bit more. Still, not having to charge daily is a boon, and the charge itself is decently quick, taking a few hours depending on how depleted it is.
Charging the Mobvoi TicWatch Pro 3 Ultra GPS is via a cable that attaches magnetically to the back of the watch. This is one of the strongest magnetic connections I've seen on a smartwatch, ensuring you get – and keep – a solid connection. The other end of the cable is a standard USB-A, which is why charging speed isn't the fastest. Hopefully when v4 comes out, they'll have figured out quick-charging and we'll have a USB-C cable in the mix.
Along with the battery life of the watch, you'll want to consider the battery life of your phone. On my iPhone SE, I had the WearOS app up and running all day (along with Bluetooth), which is necessary to have the notifications coming through (and, and iOS users, you can only have one WearOS watch setup in the app at a time). That will also ensure the data gets off of the watch and over into Google Fit, as well as the Mobvoi app as well. So, keep that in mind – the more the watch is interacting with the phone, the more your battery life on the phone is going to be impacted.
If you've used any WearOS watch, interacting with the Mobvoi TicWatch Pro 3 Ultra GPS is going to feel familiar. I had this in at the same time as we were reviewing the Fossil Venture edition. Other than having some slight differences in swipe directions for different things, it worked basically the same. And that's what you'd expect, given that they've got the same OS, and the same Snapdragon processor inside. Which means we believe that once the new WearOS is released, this watch should be able to handle things, and keep you humming into the next generation.
Along with the dual screen, another thing I really liked with the Mobvoi TicWatch Pro 3 Ultra GPS was how it's exercise tracking worked. First and foremost, the GPS was accurate, and locked on pretty quickly. It figures out where the heart rate bands should be, and will give you prompts to either speed up or slow down, to get the most beneficial effect for your workout. It can be handy to get that buzz on your wrist to say, ok, yeah, I've been taking it easy here and need to move. Once the exercise wraps up, it'll estimate the effect it has on your overall performance, so you can start to quantify if it was a harder effort or not, past just the active calorie burn.
For me, that's actually some key factors for a smartwatch. I tend to use them primarily as exercise/activity trackers, as well as sleep tracking and silent alarms to wake up in the morning. This is because I tend to switch to a traditional watch for the rest of the day, so I'm less concerned about how notifications and the like work. That said, I did find myself wearing the Mobvoi TicWatch Pro 3 Ultra GPS more and more, sometimes instead of a mechanical watch. Why is that? Actually having those notifications come through can be handy.
Say if I'm away from my desk to go get some water and get sidetracked. It'll buzz at me when that next call is coming up, letting me get back to my desk in time. For those times when I actually commute into the office, it was super handy as well. Why? Well, my phone is on silent 99% of the time, and for whatever reason, I rarely feel it vibrate in my pocket, especially if I'm walking. Well, that doesn't matter, because I can have it buzzing on my wrist as well, keeping up to date on what's going on with the family, the security system, or whatnot.
It also helps that, for being a 47mm watch, the Mobvoi TicWatch Pro 3 Ultra GPS is actually super light, coming in at just 41g. So, it's a big watch, but fairly thin for the size, and it doesn't weight down the wrist (pretty sure a lot of that is the nylon/fiberglass caseback helping cut that weight down). While we prefer smaller diameter cases for mechanical watches, a larger one makes sense for a smartwatch. Why? Because you get a larger screen, which also means you've got a larger footprint to be able to use the touch functions to tap and swipe around. Sure, it might overwhelm a smaller wrist, but for me, it was a great size.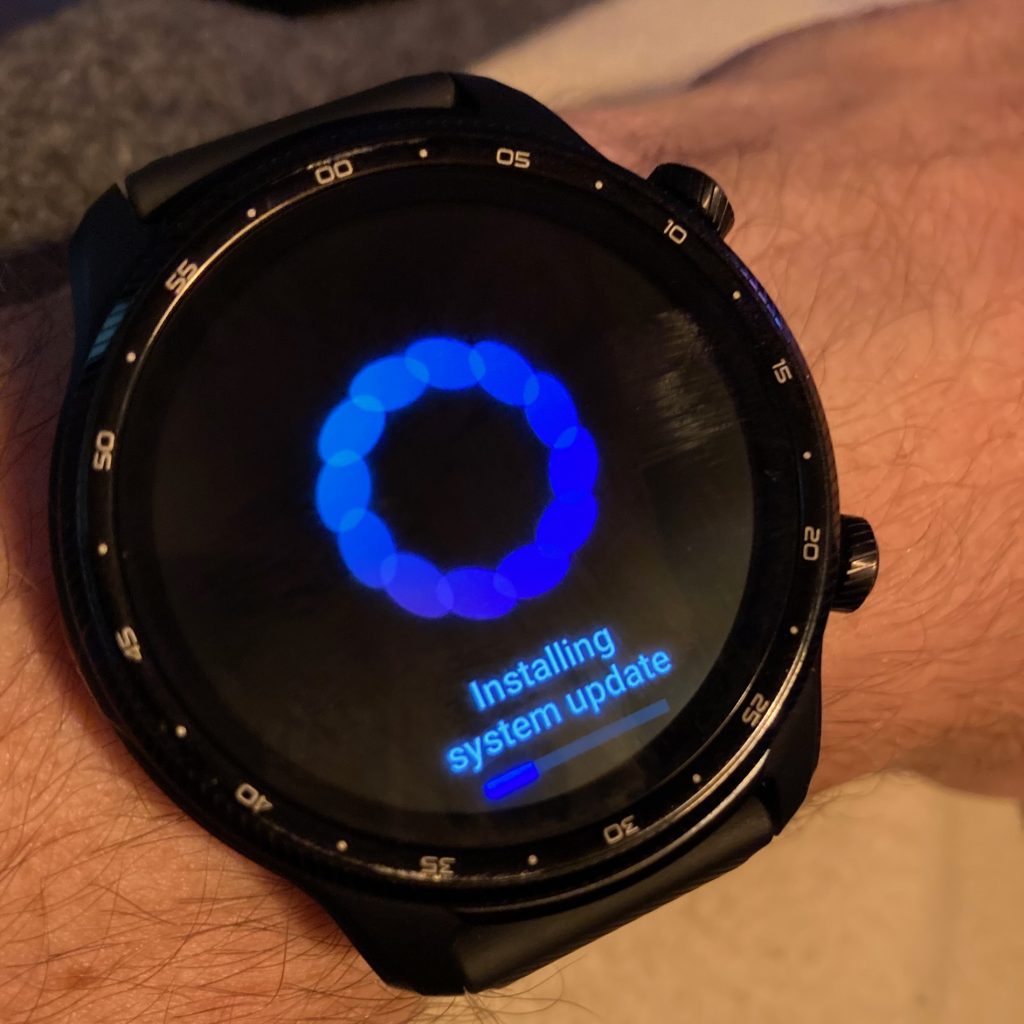 I also like to have a fitness-oriented smartwatch when I'm out doing yardwork, or off camping and hiking. The Mobvoi TicWatch Pro 3 Ultra GPS is almost there to be able to fulfill that duty, except for one key spec – the water resistance. The watch is certified for IP68, which means zero dust can get in (which is a good start). The 8 signifies the water resistance, which is supposed to mean it can be submerged for 1.5m for up to 30 minutes. In other words, this is sweat proof, and you're fine if you're in the rain or wash your hands. Trying to swim with this watch, however, that seems like you might be in for some trouble (and searching Reddit and forums out there seems to support this – people have swam with the watch and it's started malfunctioning). We decided against testing this out directly ourselves, as we're not in the habit of putting review units in a position where they'd potentially break.
So, just as we'd like to see v4 of this watch (which the internet has some rumblings on) utilize quick-charge USB-C, improving the water resistance so you can safely swim with the watch (even if it requires locking the screen so you don't have the water triggering it) would be a huge step forward to making this a watch that can handle anything. I mean, the Gorilla Glass is just daring you to get out there and be active, as is all of the sensors and overall light weight of the watch. And you certainly can, just take it off before you swim.
While I've been very slow to come around to the utility of a smartwatch (past the silent alarms and fitness tracking), the Mobvoi TicWatch Pro 3 Ultra GPS has started breaking down that wall for me. As I've spent time with it, I've just found a lot of utility from the watch that I was not expecting to make use of, and I've really rather to come to like the watch. And if you're considering a WearOS watch, the dual-layer screen on the Mobvoi TicWatch Pro 3 Ultra GPS is really a massive differentiator. Throw in the fact that you can pick one of these up right now for $229.99 (regular MSRP is $299.99) it makes it all the more compelling. Check it out – and order your own – directly from mobvoi.com (or from Amazon, as it looks like they have the discount as well).
Tech Specs from Mobvoi
Model: TicWatch Pro 3 Ultra GPS
Dimensions (mm): 47 x 48 x 12.3
Weight: 41g
Color: Shadow Black
Watch case: Stainless steel and high-strength nylon with fiberglass
Screen: Corning Gorilla Anti-fingerprint Cover Glass
Watch strap: Fluoro Rubber (interchangeable), 22mm
Operating System: Wear OS by Google
Chipset: Qualcomm® Snapdragon Wear™ 4100 Platform and Mobvoi dual processor system
Memory: RAM: 1GB / ROM: 8GB
Display: 1.4" 454*454 326ppi Full Color Always On Display AMOLED + FSTN
Connectivity: Bluetooth 5.0, Wi-Fi:802.11b/g/n
GNSS: GPS+Beidou+Glonass+Galileo+QZSS
NFC Payments: Google Pay
Speaker: Yes
Mic: Yes
Vibrator: Yes
PPG: Yes
Barometer: Yes
Sensors: Accelerometer, Gyro Sensor, HD PPG Heart Rate Sensor, SpO2 Sensor, Low Latency Off-Body Sensor, Barometer
Battery capacity: 577mAh
Durability: IP68, Pool Swim/MIL-STD-810G
Features