As I've said in the past, one of the best parts about writing on watches is getting familiar with new brands starting out. As things progress along, we're generally able to start seeing at least photos and specs in advance, and sometimes we even get to spend some time with a prototype. While we've had plenty of excitement around here for the new Seiko GMT movement, this is the first one we've gone hands-on with. Meet the soon-to-be-funding Vesuviate Volare GMT.
Now, a quick glance at the Vesuviate Volare GMT will show you that this watch doesn't quite look like the prior models (which you can see here), but there are some similarities there. The case shape feels familiar to me, the handset shape is definitely Vesuviate, and of course the logo on the dial is as well. Another calling card – which we can't show in this review – is the sheer number of colorful dial options (with bezels that are color matched) that are going to be offered – six at this time, including one fully-lumed dial.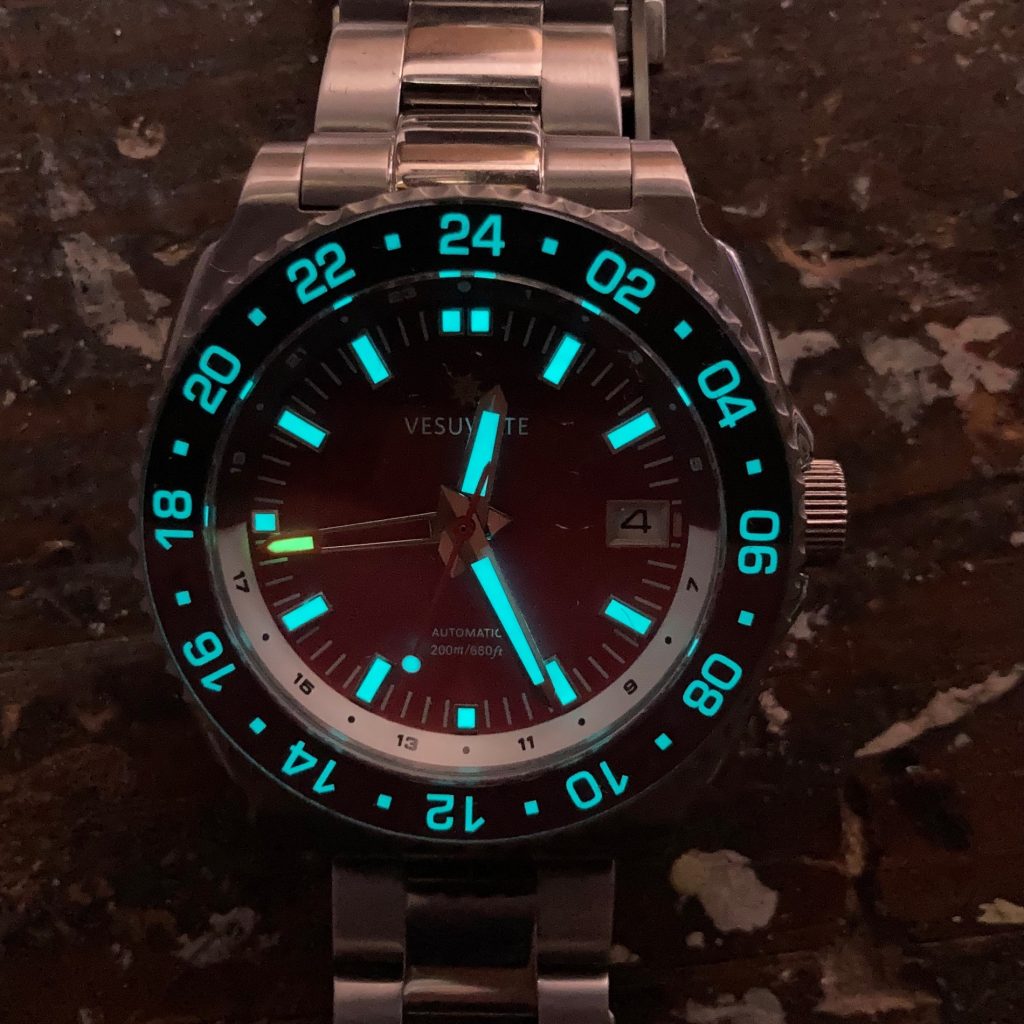 A lot of interest around the Vesuviate Volare GMT is going to be the Seiko NH34A movement inside, aka the brand-new GMT they announced a bit ago. We weren't certain how quickly the movement would show up for brands that weren't Seiko, and now we've got our answer – it's going to be out there. And if we had to guess, it's going to show up a lot of places, so us GMT fans are going to be absolutely spoiled for choice. The short review loan time doesn't tell you how this movement will be for the long haul, of course, but it did quite well in the time I had it in. Date and time stayed accurate, as did the GMT hand.
As we've said before, this movement is not a traveler's GMT with an hour hand you can set independently. Instead, you adjust the GMT hand. This makes it difficult if you're traveling between timezones (as the GMT hand is locked to the hour hand) frequently, but if you're just staying in one spot and tracking another city (or servers that record in UTC) then it works just fine. It will also work handily if the watch runs down to let you know where in the "day" you are to see how far you need to advance the hands to get it back on time again.
On the wrist, I found the Vesuviate Volare GMT to be comfortable once I had the bracelet adjusted. The 41mm case fit my 7.25″ wrist well, and the 13.7mm thickness, while not slim, did not feel overly bulky. In other words, it fit and felt just like a steel sport watch should. Once you get going about your day, it's just there doing it's job like it should. Of course, you'll be looking at it more frequently as the colorful dial grabs the eye. It has a gradient – darker at the top, lighter at the bottom – that puts you in mind of a rising or setting sun on the horizon. Which then of course reminds you why that sapphire bezel insert has a split in the color, splitting the daylight and nighttime hours.
For those wanting to really have a look at the movement in the Vesuviate Volare GMT, you can, sort of. While there is an exhibition caseback, it's tinted, so you're not getting a super clear shot at things. Then again, unless you really know the differences in movements, how much are you ascertaining here? Me, I like seeing the rotor, and of course that balance wheel in motion. Other than that, though, I'd actually be fine with a solid caseback.
Frankly, there's a lot to like about the Vesuviate Volare GMT. It hits the right GMT notes without feeling like it's just copying things that are out there, and the polished center links on the bracelet gives things a bit more flash, along with the glossy sapphire bezel insert. Even better, when the project launches in early September, the Super Early Bird pricing (for the first 50 backers) is just $375, with the next 250 pieces going for early bird pricing of $395. If you do miss the KS (it'll be a shorter one) they'll be available on the Vesuviate website for $395 for about a month before it goes to it's regular price of $425. You can get notified about the project launch over on Kickstarter, or over at vesuviate.com
Tech Specs from Vesuviate