By now, you know about ProTek, right? I mean, we wrote about them here, and we also interviewed the man behind the brand, Barry Cohen, on the Hourtime Podcast. You may know him better as the man who started Luminox, so there's some definite credibility in what he's making. We recently got to spend some time with one of his latest creations, the ProTek PT1004.
If you've listened to that interview, you know that these watches are designed to stand up to the demands of folks in the military and public services realm. That means they need to be robust, relatively light, and get their primary job (telling time) done with a minimum of fuss. That here is all accomplished by the materials used – a carbon composite case, sapphire crystal, rubber strap (with heavy-duty spring bars), and tritium illumination.
In some ways, the ProTek PT1004 is what my mind would conjure up when I would picture a Luminox – and that's a good thing. Back when I was a budding watch geek, I distinctly remember seeing those Luminox ads in the magazines like Popular Science and Popular Mechanics. Sure, there were other ads, but those constantly glowing tubes were just so darned interesting.
And actually, let's talk about that glow. Here, of course, it's courtesy of tritium gas trapped in tubes that excites the phosphor coating on the inside of the glass tubes. Is it radioactive? Sure, it is, but it's so weak it can't penetrate the glass of the tubes (and if you break one, you're only in danger if you're inhaling right above it to suck the gas in), so I feel totally fine using it. What some people may be disappointed in is the amount of light that standard tubes produce. Will they be as bright as, say, your Orange Monster lume? No, it sure won't, at least when it's fully charged.
What you need to understand, however, is that those tritium tubes keep a constant level of glow (ok, sure, it degrades over time, but it'll take 25 years to get to half brightness), and require no external input. On the other hand, SuperLuminova (or whatever your lume of choice is) start brightest right after they're charged, and then the light output reduces over time. In my experience, my once my eyes are adapted to the dark (say, a movie theater or after sundown while camping), I don't have any problem picking out the time on my wrist. Is it going to blind you? No, it's not, but it gets the job done. And think about the use case here – if you're in the Army wearing a watch like this to read the time, you don't want to have a bright target on your wrist. So, the prospective buyer needs to consider this. You will get the amazing light show, you just won't see what the edited PR photos will show you. And if absolute output of glow is your concern, you'll want to opt for the wider tubes (which ProTek has as well) instead of the narrower tubes.
Ok, so I'll climb off of that generic soapbox. I like tritium tubes, I understand them, but it was worth it to set that expectation for potential buyers. Now, back to the specifics of the ProTek PT1004. In my time with the watch, I thought about where it fit my life (aka, my use cases). Aside from daily life wear, this is the sort of watch that I think is perfect for what counts for "Rough Duty" in my life – which is to mean long camping weekends, and the yardwork / house projects sort of stuff. The carbon composite case and bezel won't take on (or show) the dings and scratches like metal will, and it'll protect the quartz movement inside.
Quartz – while some turn their nose up at it – is perfect for that sort of use in my book. For one, it's always running (and accurate), so I don't have to worry that I was sitting by the lake or firepit for way too much and have the movement wind out. Quartz is also a little less sensitive to getting banged around as compared to a mechanical movement, so you've got that going for you. Put a 300m WR rating in there, and you're set for whatever water you encounter, be it swimming or some last minute plumbing work that you really don't like to do, but tackle anyways to save paying a professional.
Really, the case and bezel of the ProTek PT1004 is all about protecting that precious movement. The nubs on the bezel help your grip the bezel to set you time, but it also helps protect that tough sapphire crystal. The integrated crown guards on the case, well, they protect the crown and keep shocks from the movement. Around back, of course, that steel caseback locks everything in place.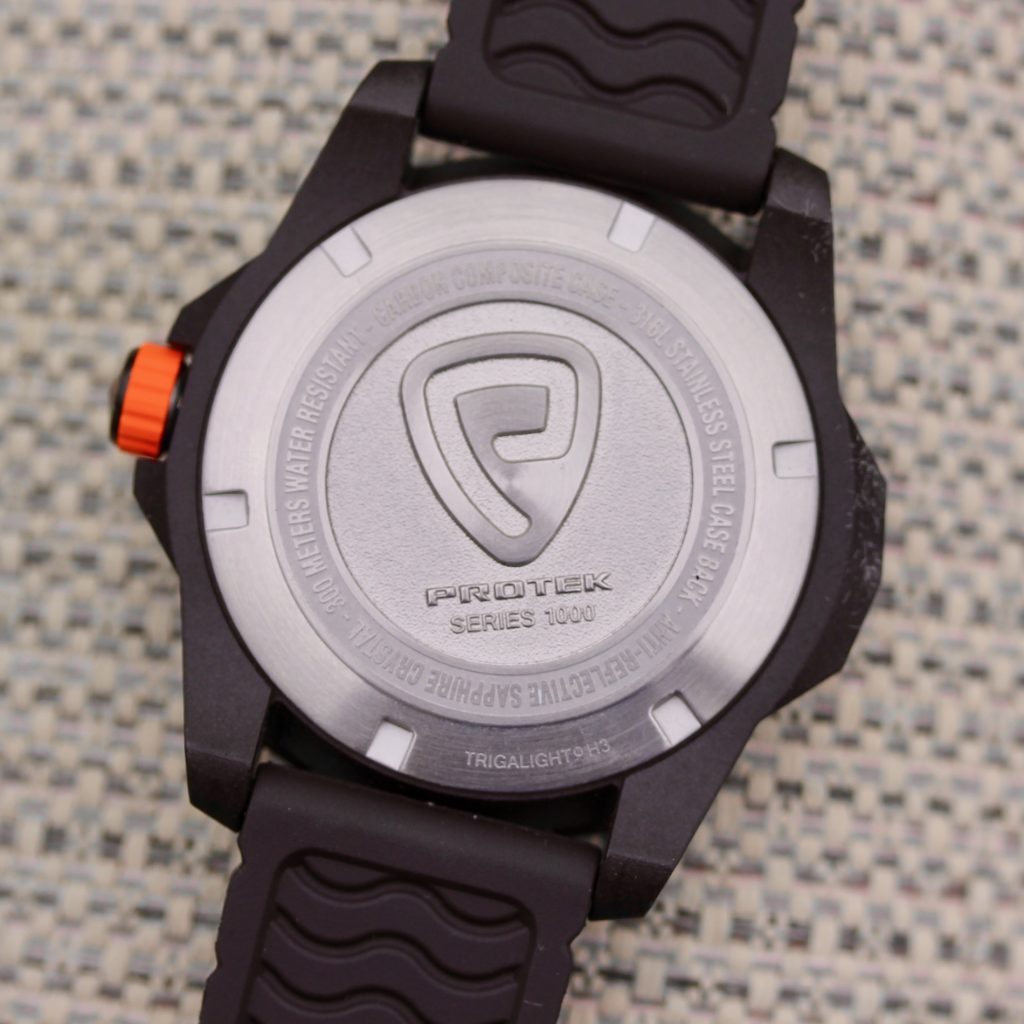 In the couple of weeks that I had the ProTek PT1004, I basically wore it instead of anything else. Sure, I didn't wear it with a suit (which I do once a week) but other than that? It was a my go-to watch. The 42mm case might be a bit large for some wrists, but it fit me very well. Think of it this way – for any time you'd be wearing casual (aka non-office) clothing, this is a watch that will blend in, both to what you're wearing as well as what you're doing. And it'll be comfortable at the same time – the overall watch is light on the wrist, and for being a sturdier rubber strap, it was actually pretty flexible and comfortable right out of the box.
Now, I will admit – I may not be the target audience for the $525 ProTek PT1004. That said, I found it to be a great everyday watch, and perfect for anyone who's in rough use scenarios, or just tends to be a bit rougher on what they own. I'm not a police officer or military guy, so I can't speak as to uses there. For the everyday homeowner with tasks to get done, or the outdoors lover (provided you're not wearing a watch for activity tracking), a watch like this has a lot going for it. Not only is it built to stand up to whatever you can throw at it, the included 10-year battery is going to last so long you're going to be surprised how much your life has changed when it comes time for a new battery.
Don't particularly like the colors or style of the ProTek PT1004? Well, that's no problem, as there are other colorways (the chapter ring and accent on the crown change) in the 1000-series, and there are also other models in their lineup. The 2000-series trades carbon composite for steel, and the 3000-series takes things a bit more upscale in the look (and moves to the tasty wide tritium tubes) so there's options you can find, for sure. In my book, something from ProTek will certainly cover your weekend-wear needs. And of course, for a little bit more, you can use the code HourTime to get 20% off, as well as a bonus t-shirt. Check out the full lineup over at protekwatch.com
Tech Specs from ProTek
Japan Quartz Miyota 2S60 3 Hand & Date Movement with 10 Year Battery
42mm Carbon Composite Case
Unidirectional ratcheting 60 Dive bezel (30% carbon)
Sapphire Crystal with Antireflective Coating
Genuine Rubber Strap (22mm x 20mm) with signature buckles and heavy duty spring pins set inside additional steel tubes for added strength and durability
Water Resistant to 300 Meters
Screw-on stamped, embossed case back and screw-in crown
ProGlo™ Swiss self-powered illumination system that glows continuously for 25 years