Mother's Day is coming up, and as a service to those gift challenged male readers out there, I though I would highlight a few watches that you may want to get for the woman (or women) in your lives.  I am mainly going to focus on watches that we have reviewed relatively recently, though there are a few extras tossed in here.  So without further ado, here is our Mother's Day Gift Guide.
My first pick is the Void V03P Petite. Patrick was not a huge fan of the design, but I like the clean look and the pattered strap and over-sized, knurled crown adds some visual interest to an otherwise minimalist design.  At $195 (including shipping) for a Japanese quartz driven model, it is not going to break the bank.
If the mom on your gift list is more sports oriented, especially if she is a diver, I would recommend that you take a look at the Christopher Ward C60 Trident Collection.  The whole line is available in both 42 and 38mm cases, so while they are not women's watches per se, they are sized for a smaller wrist.  I ran through all the various options back in January, and recently had some hands on time with the GMT.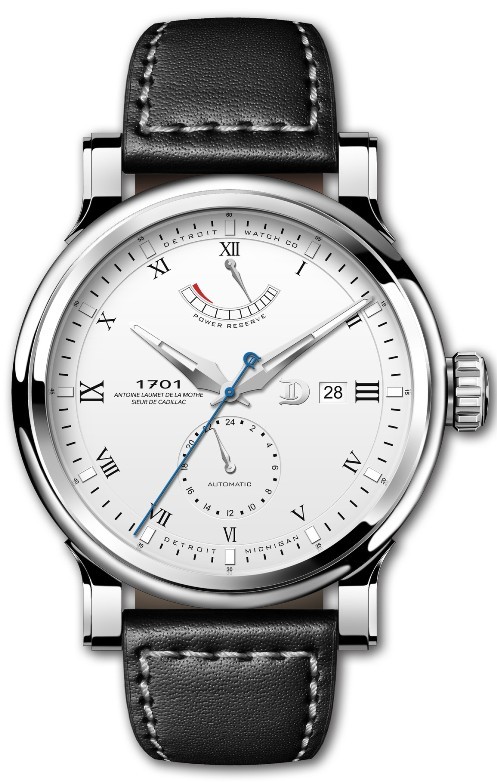 The Detroit Watch Company 1701 is not a woman's watch, but it was the first watch that I had which my wife really liked.  In fact, she now wears it instead of me.  She is tall and likes large watches, so she feels comfortable with the 44mm size.  The brand recently expanded the 1701 line, and there are watches in both 39mm and 44mm cases.  Keep in mind, the 39mm watches are pre-order items, and will not ship until after Mother's Day, so you need to figure out if that will cut it as a gift.
If you are looking for something more petite, you may consider the Frederique Constant Slimline Moonphase, which I looked at back in October, and then recently checked out in Bloomingdale's.  These 30mm watches have a mother of pearl dial, so the jewelry aspect is front and center.  Depending on the case material, strap and bling factor, the watches run from around $1,100 to almost $3,000.  The watches are petite, but they are well made and even at the lowest price point they have a nice bling factor.
Staying with the dressier options, Tissot introduced the Vintage Collection at Basel this year.  Patrick ran through the options with the line, and his favorite was the smoke dialed version.  They don't seem to be up on the website at the moment, so check with your local Tissot dealer to see if they will be available in time.
The other end of the Swiss watch industry is Swatch, which created a far bit of interest with their Sistem 51 Automatics, selling for around $150.  The line was recently expanded, bringing in new colors and flexibility to the styling.  They can't be serviced, and they do have plastic cases, but they are fun, colorful, and house an automatic movement.
Finally, I am going to lay a minefield out here, and I am not recommending that any of you cross it.  I bought my wife a Fitbit Charge HR for Valentine's Day, but this is because she asked for one.  Buying any fitness related equipment is very dangerous for a gift, but you know your ladies, and something like this may be perfect.  As an activity and sleep tracker, the Fitbit is highly rated, and the Charge HR adds a built in heart rate monitor.  It also has a digital time display, so it actually functions as a watch.
The one last thing to mention is the Apple iWatch.  I am guessing that if your lady wants one, she has already told you to get it or has ordered it herself.  I have a feeling that it is going to be on a lot of gift lists.
So that is it.  With three guys writing for the site, we tend not to cover a lot of watches marketed toward women, but I thought I would toss a few options out there for consideration.  If you like any of these, or if you have recommendations of your own, please feel free to leave a comment below.