We've covered a variety of different watches from the group that contains Archimede, Limes, and Defakto.  We've been seeing updates from the first two brands with some regularity, but it has felt like things had gone a bit quiet from Defakto.  That is, until we received word of the Defakto Stille Nacht, a rather luminous (and affordable) surprise to our inbox.
Often, when it comes to watches from this group, there's a lot of focus on Ickler-designed cases, and rightfully so (they're rather well sorted).  Instead, with the Defakto Stille Nacht, the focus is really on the dial.  Here, they start with a midnight blue base, and then airbrush (by hand) a field of stars, both in regular and luminous paints.  Over the top of this a simple white handset (you can opt for a single- or a dual-hand configuration) spins.  The hand(s) are not lumed, and instead, rely on the backlight from the starry sky.  The PR claims it's still readable in the dark, and I'm inclined to believe them.
I'm also inclined to believe that the dial of Defakto Stille Nacht looks rather stunning in a darkened room – or, you know, outside at night.  Many of us are fans of glowing bits on our watches (and other EDC gear, it would seem), and for me, that use of lume goes in a special direction when it's applied to celestial items (the moon, the stars, etc).  It just feels right, you know?  And here, tucked into a 40mm PVD case that has a fairly thin bezel (and a thin profile at 6.6mm, for that matter), all of the attention is focused right up on the dial.
When a watch is as aesthetically design-oriented as the Defakto Stille Nacht looks to be, and in a limited edition (only 50 pieces here, total, being made), we expect to pay a premium, right?  Well, Defakto is flipping that playbook out the window.  Whether you go for the single- or dual-hand configuration, or want to get the watch in a left-handed or right-handed setup, it's all the same price – $318 (outside of the EU).  By keeping the focus on that hand-made dial, stuff like the movement (here, a Ronda 712) does not have to be the focus, and some money can be saved.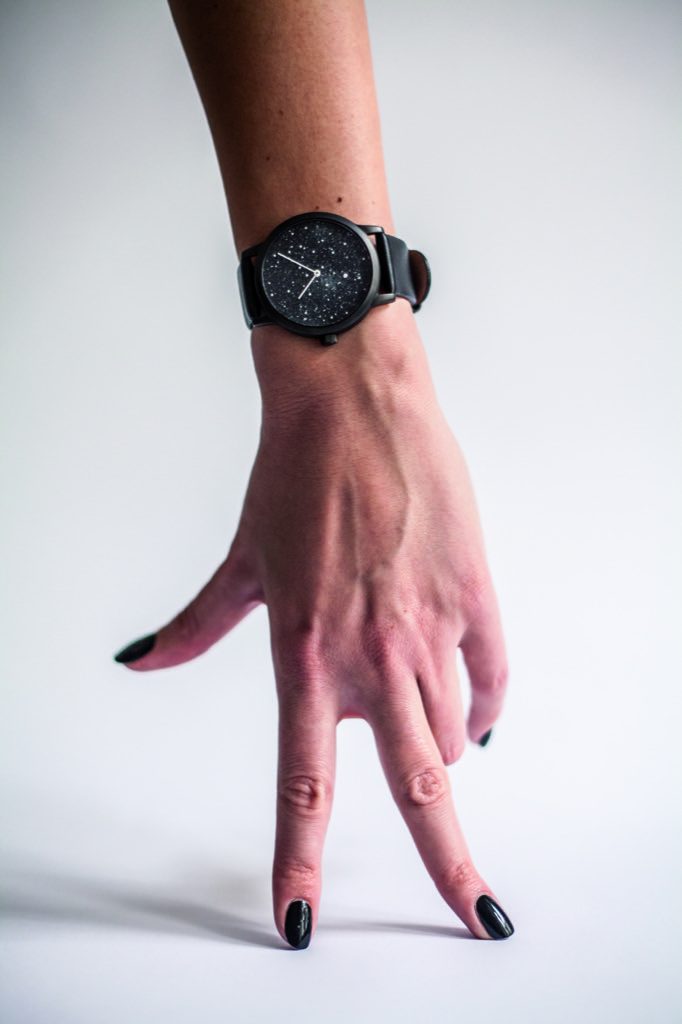 For a watch like the Defakto Stille Nacht, I am a fan.  Yeah, a super-slim mechanical movement would have been stunning, but the price would be astronomical.  I like that the astronomy is kept to the dial.  And being quartz, this is a watch that just fits well as an occasional sort of a watch – headed out to an open-air concert in the evening say.  With quartz, you feel comfortable doing that.  If it were mechanical (and had that price tag that would come along) you would want to wear it more often, and I have a feeling the novelty of the dial would wear thin.  As an occasional piece, though, that uniqueness remains fresh, and makes for a fun watch that keeps on being fun.  defakto-uhren.de
Brand & Model: Defakto Stille Nacht
Price: $318 (outside the EU)
Who we think it might be for:  You want to carry a piece of that starry nighttime sky around with you all the time
Would I buy one for myself based on what I've seen? Yes, this looks to be a fun piece
If I could make one design suggestion, it would be:  Perhaps give the buys an option for whether or not they want lumed hands?
What spoke to me the most about this watch: That star field, captain!
Ref-Nr.: 4.DET-0301-SW-SN
Limited to a total of 50 pieces independent of configuration, single-hand version
Flat, two-piece stainless steel watchcase (316L), fine sandblasted, PVD-coated
Massive, engraved, screw-down case back (316L) with running number 1/50 -50/50
40 mm x 46.8 mm x 6.6 mm, 44 g
Ronda 712 movement, made in Switzerland
Matte night-blue dial, without logo
Hand-applied airbrushed starfields
Larger stars fluorescent, Superluminova
Ergonomic clasp with engraved Defakto logo
Antireflective sapphire crystal
German-made Defakto cowhide strap
Water resistant to 5 atm
Made in Pforzheim, Germany