A little while back, we told you about the latest The Electricianz watch that was hitting the crowd-funding circuit. While I've written about them in the past, I'd not actually seen their clever take on an "electric" watch in person. Well, we rectified that lately, and got an The Electricianz Stone Z in for review.
Now, if you take a look across their catalog, many of the watches you see will look similar to what you see here for The Electricianz Stone Z. I'm not saying they're identical, but that there's a thematic there, with the timekeeping shifted over to the right and some sort of "wiring" over on the left. For our review unit, rather than exposed wiring, we've got a bent conduit look to things. Actually with that bit of color replaced by steel tones, I'd say this watch verges on the dressier side. Then again, at 45mm (and about 13.5mm thick) you're going to want some wider cuffs to dress this piece up.
As you no doubt have noticed, The Electricianz Stone Z has both a crown and a pusher on it. The crown, as you'd expect, is for setting the time. The pusher? That's used to kick off the LED backlight that's under the blue dial, lighting things up in a very clever way. It lights the dial up very well, but not much hits the handset. Well, at least the hour hand. The minute hand, as it extends out further, is over the top of the circle that lights up, so you do pick up a small bit there. Yes, there's lume there, but it's a narrow strip, so I wouldn't rely on that for your timetelling in the dark.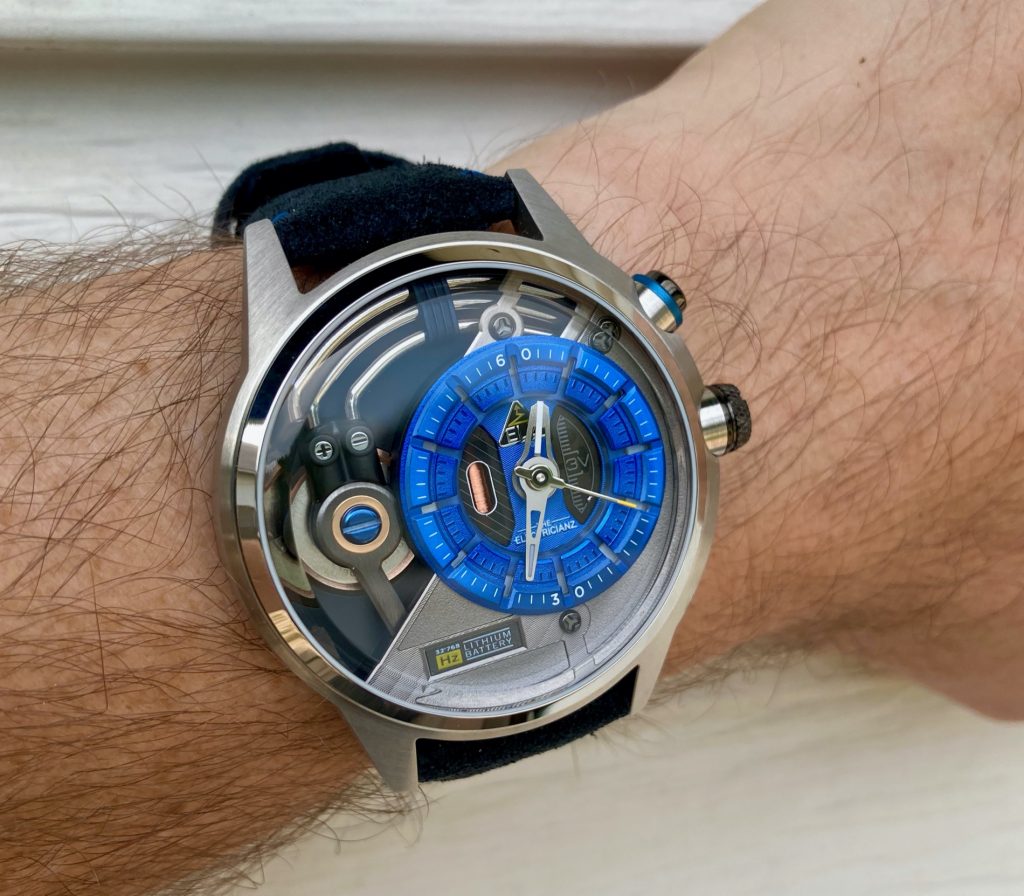 As far as the case goes on The Electricianz Stone Z, it's pretty simple and clean, with some angles on the sides to reduce visual bulk. The bezel and mineral crystal pick up those angles as well, making for a cohesive outer shell. Keeping those simpler makes sense, as most of the attention should be directed to what's under the crystal, with the watch bits and then the electrical embellishments, as well as that bright blue arc reactor dial.
At the end of the day, The Electricianz Stone Z has a unique look, something I think verges on a sort of retro-futurism mixed up some industrial design. If you're an electrician, or just want to feel like you've got something from a scifi novel on your wrist, I've a feeling you'd be pleased with The Electricianz Stone Z (or another watch from their lineup, as there's a variety of palettes in use). For the one we reviewed, you can pick it up for $475 (on the strap, as reviewed) or $595 on the bracelet directly from the-electricianz.com.
Tech Specs from The Electricianz
| | |
| --- | --- |
| Case Diameter | 45mm |
| Opening Diameter | 38mm |
| Strap Width | 22mm |
| Light Function | YES |
| Case | Stainless steel case |
| Movement | Exclusive Inhouse Electric module.  |
| Glass | Hardened mineral K1 glass with anti-reflective treatment |
| Water resistant | 3 ATM |
| Strap | Available in leather & metal. |
| Warranty Included | 2 years |