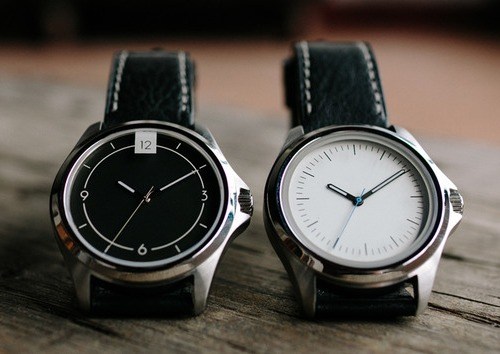 Kickstarter is being used to launch another designer-centric watch brand, the Canvas Watch Company.  The launch includes two models, designed by two different guys, but sharing a key components and one unique bit of DNA.
The watch itself is a quartz three hand powered by a Ronda 513 movement in a 42mm brushed stainless case.  The watches are numbered in an edition of 250 and come complete with an AR coated sapphire crystal and a black leather strap with contrasting stitching and a deployment clasp.  The watch is rated to 100M and is assembled in the US by Wiegand Custom Watches near Cleveland, Ohio.  After the initial runs, the owners would like to shift assembly to their own shop in the Metro Detroit area.
What is unique, or at least very uncommon, is how the chapter ring and numbers are applied.  Instead of them being an element on the face of the watch, they are printed on the inside of the crystal, so they float above the hands and dial, giving a different take on depth.  It is an interesting way to do things, and the two models use this technique in a fairly simple way.  If the brand takes off, I wonder if they will begin to play with markings on both the crystal to really layer in the effect.
Canvas is hoping to be able to deliver the watches in June, about 6 weeks after the conclusion of the campaign.  Assuming the the printing on the crystal is not a major hurdle to overcome, I would expect that this is a reachable goal.  After these watches are launched, the brand hopes to collaborate with other designers and bring out new designs in small batches.  The campaign offers the watch for $245 for the first 100 of each model, and then jumps to $295 for the rest of the production run.  For a quartz, I think this is a little pricey, but it does include nice elements like the AR coated sapphire and the deployment clasp, so you are getting some additional value.  canvaswatch.com
Watch Overview
Brand & Model: Canvas Watch Company
Price: $245/295 depending on timing for the campaign

Who we think it might be for: Someone looking for a unique but subtle watch.

Would I buy one for myself based on what I've seen?: It is interesting, but not interesting enough for me at this price.

If I could make one design suggestion, it would be: A more interesting case design.
What spoke to me the most about this watch: The concept of printing on the back side of the cyrstal.