All the way back in April, we brought you word of a new collection from Christopher Ward, the C63 Sealander. In that article, we covered the three different models that comprise the collection. Since that time, we've been spending time with my personal favorite from the collection, the Christopher Ward C63 Sealander GMT.
Why a GMT? Well, for me, it's no so much about travel any more, as I don't do that near as much as I used to. I still have a practical use for it. At work, our servers record events in terms of UTC, so I'm able to set the second time zone to that, and easily track the offset of what I see in the logs. Even past that, there's another really nice use. If you're the sort that tends to swap around watches, you might run down the movement (even one with the 56-hour power reserve like this watch has). With that, the GMT hand gives you a quick idea of where in the 24-hour day you are, so you know how much adjusting you're doing to get to the current date and time.
So, whatever the usage, a GMT complication can be helpful. For me, everything else being equal, if I could have the same watch in a three-hander or in a GMT (such as you can have in this C63 Sealander collection), I'm opting for the GMT version. That's also why the two watches of my own that I wear the most have a GMT complication. I just plain like it. From all of that (and reviewing others), I know what I like in a GMT watch, and I found a lot to like in the Christopher Ward C63 Sealander GMT.
Now, let's just address the concerns of the GMT purists. This needs to be called out because the GMT hand, while you can adjust it independently, it's tied to the hour hand. In a "true" GMT watch, you instead adjust the hour hand independently (in one-hour increments). That makes sense. If you have the GMT hand set to UTC (or your home time zone), and you land somewhere else, you can quickly adjust your hour hand to the local time and off you go. If you're a major traveller, then that sort of approach would make the most sense. For someone like me, however, I'm ok with the approach that CW used here (and I see most commonly) – though, if future iterations switched to that type of adjustment, I'd definitely be on board.
That's a fairly minor quibble with the Christopher Ward C63 Sealander GMT, and as I said, not one that I particularly care about. It could be a deciding factor (for me) between two watches, but realistically either way is going to get me the look and functionality I like. One other minor nit I had to pick with the watch was it's height in relation to it's diameter. Now, under 12mm is a thin watch, don't get me wrong. Set as it is against the 39mm diameter, it can look a touch thicker than the dimensions would suggest. This was more of a "just out of the box" impression, and once I was wearing it, it became less of a concern. And in talking with my WWR colleagues, it's about as thin as it could be to package the movement and handset without other major rearchitecting, so we're getting about the best we can in terms of dimensions.
For me, that 39mm diameter on the Christopher Ward C63 Sealander GMT is the main dimension that really sold me on the watch. My other GMTs that I regularly wear are 41mm and 42mm. Not a huge difference as measurements go, but the 39mm really looks – and wears – noticeably smaller on the wrist. Not so small you feel like it's disappearing, but it's just something that you say "yeah, that's different, and it's nicely sized". In other words, it's big enough to allow the watch to do it's job, without overwhelming your wrist.
This is, I believe, due to the fact that the view you get of the Christopher Ward C63 Sealander GMT is mostly dial. Sure, it's got the 24-hour fixed bezel, but you don't see any other case protruding past it other than the lugs. This allows your eyes to focus in on the dial. On our reviewer, we had the black dial come in. I was concerned at first about reflections off of that glossy dial, but it was really no worse than any reflections you'd get off of the sapphire crystal. That was good, then, as it provided a very crisp contrast to the white applied indices on the dial, and the polished (and luminous paint-filled) hands. That's why black dials with white indices are so popular – they're just ultra legible.
They also reduced other noise on the dial of the Christopher Ward C63 Sealander GMT. Yes, the brand name is there, but it's not overly-pronounced. Then, the printing on the lower portion of the dial is smaller yet. It's there to give you the information you might need, but it's something that doesn't draw your eye away from reading the time. Which, given that it's the primary job of a watch, is a very good thing indeed.
Our reviewer came on the vintage oak camel leather strap, which has a slightly sueded texture to it. As with any strap, it was a little stiff at first, but the leather quickly broke in. The helped with the comfort, as did the slight taper from the 20mm lugs down to the buckle. With it coming with quick change spring bars, it would be a simple matter to swap in a different strap, or even the bracelet. This is a great way to refresh the look of a watch, or just do something as minor as having the strap coordinate with your belt and shoes, if you were so inclined.
For working from home and the casual summer dress code, the Christopher Ward C63 Sealander GMT worked quite well. Sure, the glossy bits felt maybe a little bit more dressed up than the rest of me, but it worked just fine. And it also meant it still worked well when I threw on a sport coat here and there. If you were going for a black-tie affair, you'd probably want a darker leather (or the bracelet), but that just means that the watch is a bit of a chameleon, dressing up or dressing down as you need it.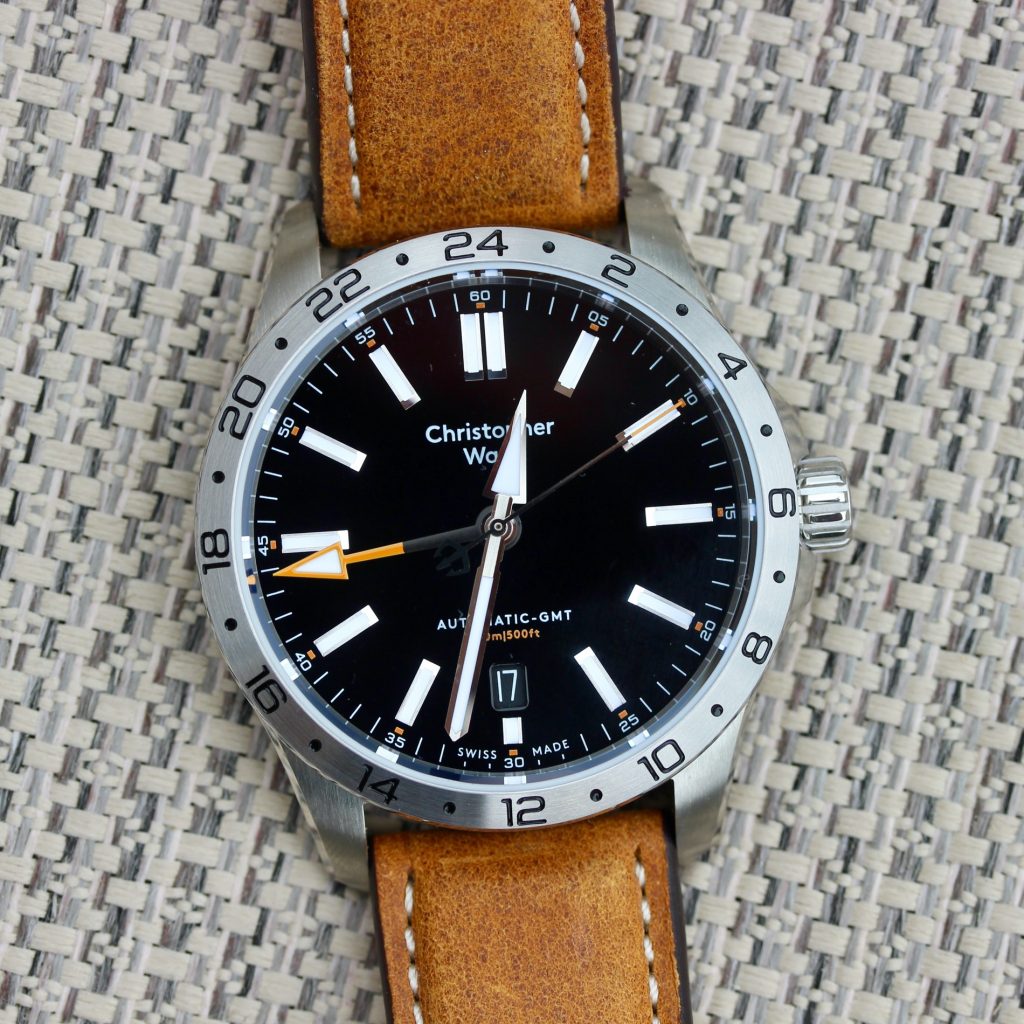 As I've reviewed Christopher Ward watches over the past few years, I've had a number of different favorites. As my own tastes have adjusted, and the brand improves their watches, it's natural to change opinions. I've held on to favorites for a while in my own mind, but now, it's easy for me to say that the Christopher Ward C63 Sealander GMT is my favorite of their range. I mean, you're getting a competent design powered by a Swiss Sellita movement all for under a grand (on the strap), so really, what's not to like? And if you don't care for the GMT, you can drop to the three-hander for a few less bucks and still get the same design and a Swiss movement. All told, this new collection is top of the CW charts for me, with the Christopher Ward C63 Sealander GMT taking the number one slot. If you're rowing my same boat, you can pick one up for yourself at a price of $950 on a strap, or $1,070 on the bracelet. christopherward.com
Details from Christopher Ward
Technical:
Diameter: 39mm
Height: 11.85mm
Weight: 62g
Lug to lug: 45.80mm
Case: Steel
Crystal: Sapphire
Dial colour: Black or White
Depth rating: 15 ATM
Movement: Sellita SW330-2 with Elaboré 'Colimaçoné' finish
Functions: Hour, minute, central seconds, date, GMT
Power reserve: 50-56 hours
Vibrations: 4hz / 28,800 vibrations per hour
Timing tolerance: +20/-20 seconds per day
Strap width: 20mm
Features:
Swiss made 
Self-winding 25 jewel mechanical movement
Up to 56-hour power reserve Formulation not consistent with the Elite
GMT complication
Date calendar
Central hacking seconds hand
Antishock system
Twin-flag engraving over 'Colimaçoné' finish on the rotor
Elaboré 'Colimaçoné' finish on the movement
Polished lacquer dial
Super-LumiNova Grade® X1 BL C1 hands, indexes
Top-brushed indexes with diamond polished facets
Brushed and polished hands
Signature Trident counter-balance on seconds hand
Brushed and polished marine-grade stainless steel case
Circular brushed and polished fixed steel bezel with black lacquer filling
Anti-reflective sapphire crystal
Screwdown, display caseback
Embossed screw-down crown
150m water resistance
Unique engraved serial number
Strap options – Bracelet, Hybrid black/ orange, Hybrid black, #tide ocean material® black/ orange, Vintage oak camel or Vintage oak black