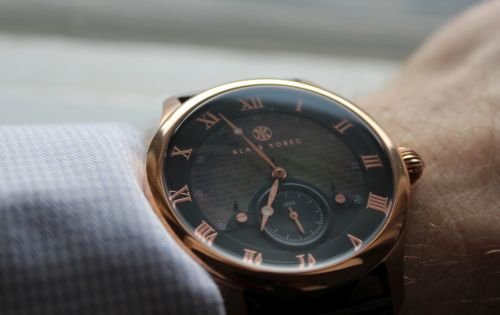 Often when a watch draws inspiration from something in the world – be it a car, plane, or even a city – things are limited to smaller touches, or perhaps something on the caseback. With the Klaus Kobec Taj Mahal, however, you've got the namesake inspiration front and center.
This, quite obviously, is with the skyline profile that runs from 8 o'clock to 4 o'clock. It's an interesting design to the watch, especially when it's paired to the black mother-of-pearl dial as ours (ref. KK-20007-04) was. This really gives the look of a night sky, which is something I can't honestly say I've associated with MOP dials before.
When you take a closer look at the MOP, you see that there's actually a brick wall pattern etched into it, which brings us back to the city tie-in. Cues from that silhouette appear in other parts of the watch as well – the dome pops up again in the modified onion crown, and the gold screw heads pop in on the lumed pips of the pomme-style hands.
For this quartz watch, the focus is definitely on the styling. And, for a dress watch that you may only be pulling out occasionally, that's probably ok. This particular example came with a gold tone finish to the 42mm stainless steel case, which is then picked up by the Roman numerals on the dial.
If the brown croc-embossed strap isn't your thing, you could pretty easily swap in a black calf one, I think, and still be keeping within the original look they intended. With the Klaus Kobec Taj Mahal collection, you've got an interesting combination of geography and materials. Coming in at a price of $276, this is a unique look that will give your wrist a bit of subtle style. klauskobec.com
Review Summary
Brand & Model: Klaus Kobec Taj Mahal (ref. KK-20007-04)
Price: $276
Who's it for?: I think this is for someone who perhaps has some memories tied to the Taj Mahal – either by having toured there, or perhaps having lived in the area
Would I wear it?: That's a tough one. I love the dial, I'm just not crazy about the gold tone
What I'd change: The finish of the case. Perhaps a rose gold, or perhaps a dark grey, I think, would be quite nice.
The best thing about it: The combination of the skyline and black MOP dial – a stylized nighttime picture.