Ah, I still fondly remember when I first learned about Frederique Constant.  The idea that you could get champagne-level watches at beer prices was simply entrancing.  In fact, that's what a lot of the crowd-funded watches try to position themselves as.  However, with Frederique Constant, my experience has been that the products usually match to the marketing hype.  Today, we're taking a look at the first GMT from the brand that I've had cross my desk, the Frederique Constant Runabout GMT.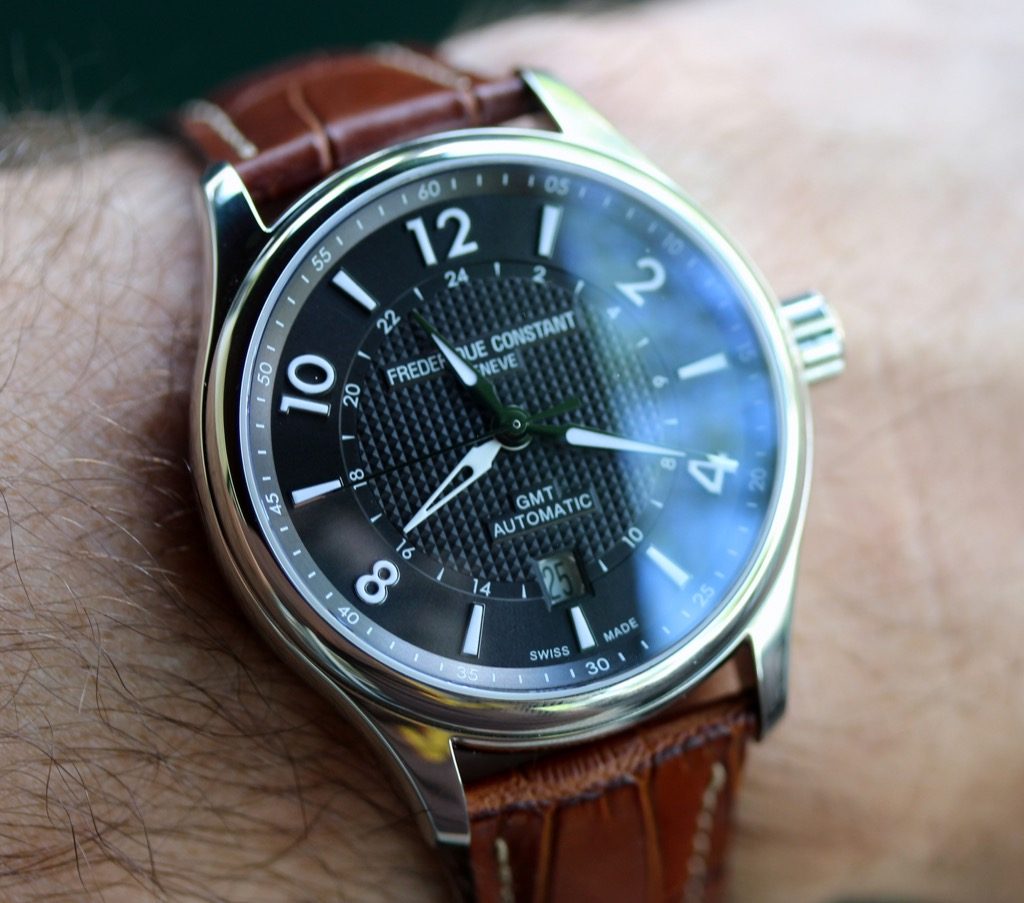 You'll notice that in that opening paragraph, I specifically called out 'my experience'.  This is because my friend and fellow editor, Victor Marks, has had a bit more of a mixed experience with the brand, which plays out in the reviews he's written (and a recent podcast episode).  So, suffice to say – the opinions on the Frederique Constant Runabout GMT are solely mine, and your mileage may vary.
Now, ostensibly, the Frederique Constant Runabout GMT has some nautical ties (back to the Riva Runabout yachts of the 1920s).  Other than the nautical flag that appears on the exhibition caseback, I'm not picking up that theme.  I mean, really, you'd have to be doing a LOT of sailing for a GMT complication to make sense, no?  Given that, and the fact that I'm not really into boats, we'll be evaluating the Frederique Constant Runabout GMT on its own.
At 42mm, the Frederique Constant Runabout GMT is a nice balance between a reasonable size, and something that skews a little larger to draw attention (or just make it easier for eyes to read).  While I cannot say for sure if the case design is identical to others I have seen from the brand, there is definitely a shared DNA between them, lending a comfortable familiarity to the case itself.
Tucked into that – and under the convex sapphire crystal – you've got a well laid-out dial.  In our review loaner, we had the dark grey version with white accents (there's also a silver dial that keeps the main accents white, but swaps in a blue GMT hand for the white one that our loaner had). Since I mentioned the GMT hand, let's talk about that for a moment.
Often on GMT watches, the hand takes the form of a slender stick with an arrow head on it, generally in a warm color (red, orange, yellow) to make it quite obvious that it's different from the "regular" handset.  When I first saw photos of the Frederique Constant Runabout GMT, I thought it was an interesting idea that it followed the same shape and size as the hour hand, albeit skeletonize and in "ghost" form, being in white.  In practical purposes, however, it led to some confusing time readings.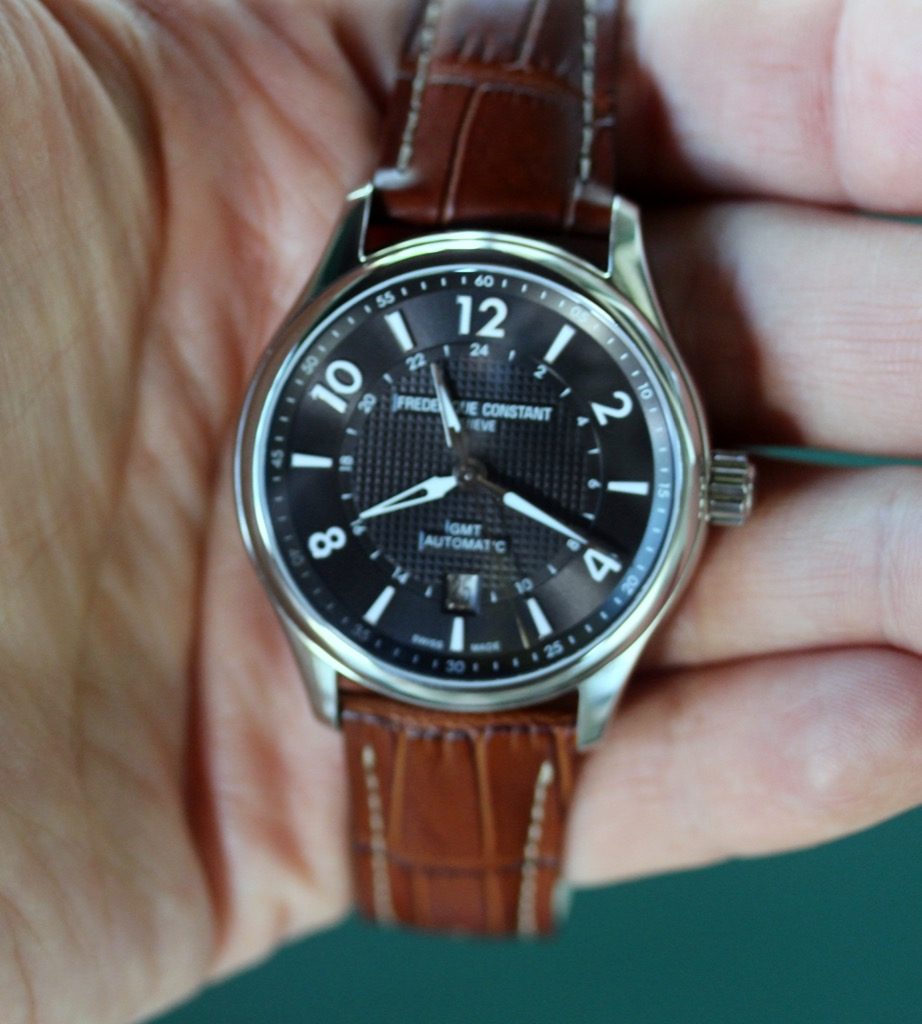 I don't know about you, but I generally have a good sense of the time of day (morning vs afternoon, etc), and I then rely on a quick glance at a watch to refresh me where I the day that I am.  On the Frederique Constant Runabout GMT, things get a bit trickier.  Though the GMT hand is clearly painted to be different than the hour hand, it's actually more eye-catching than the hour hand (larger white surface area against the dark dial).  While I never got the wrong time set in my mind, there were more than a couple double- (and triple-) takes while wearing the Frederique Constant Runabout GMT.
In short, now I realize why most brands have a GMT hand that is (a) styled much differently than the main handset and (b) shares next to nothing with the main color palette, to differentiate things.  I like the idea of a similar shape (such as we saw on this Archimede LINK) – I just think that it needs to be more closely aligned to the dial color.  IE, have the hand itself be in black or dark grey, and then only outline the tip in white, something of that nature.  That way, it blends in, but it's still able to be picked out when you need it.
While we're on the subject of the GMT hand, it's worth noting that the Frederique Constant Runabout GMT has this set with the minute hand, while the main hour hand is the jumping hand.  While this is reverse of what we might more commonly expect, I've come to feel that this implementation makes more sense, especially for someone who travels a good bit.  In other words, GMT time does not change.  When we travel around (or even have daylight savings changes in place), your local hour of day does change.  So, for the traveller, it frankly does make sense to have that local hour be a quickset jump, whether you have the GMT hand set to UTC or to your home time zone.  So, yes, I liked the implementation here.
Another thing I liked quite well on the Frederique Constant Runabout GMT was hiding in plain site – a magnifier on the date window.  No, there's no bubble on the crystal that I've managed to obscure with my photos.  Instead, the magnifier is mounted in the date window cutout itself.  Sure, you won't get quite the magnification you would with the bubble being on the crystal (size of the magnifier, distance from date wheel), but it still gives a gentle boost to the date display size, something I like.  Normally, I'd call that date wheel out for not being color matched, but with this watch, I'm on the fence – it does fit with the overall color scheme, so I'm inclined to give it a pass.
As for the rest of the watch, it feels solidly built, and you get to peek at the movement a bit through the exhibition caseback.  Finishing on the movement is middle-of-the-road, but since there's no screwdown crown and only a 50m WR rating (a bit strange for a watch tied to boats, but maybe that's just me), there's not much benefit to a solid caseback.  Might as well show off the movement some, eh?
To wear the Frederique Constant Runabout GMT, you've got some minor adjustment to do with the attached strap and it's deployment clasp.  This clasp is one of the better ones that I have seen as of late, for a few different reasons.  First off, it is super easy to get the sizing adjusted (even throughout the day, if need be), and still feels secure once locked in place, due to using two holes on the buckle.  Second, the clasp itself never feels bulky.  Sometimes on leather straps, these clasps feel like they add unnecessary bulk, but that is not the case here.  Finally, it's just a great-looking clasp.  Once closed, you get that 3D FC logo, and it just looks sharp.
So, while I would by no means call the $1,795 Frederique Constant Runabout GMT a perfect watch (at least for me), it does have a lot going for it.  It's still in the realm of affordable luxury (though creeping up on the higher end of what I'd normally consider or recommend from the brand), and offers a watch that I'm sure would fit well for the business traveller out there.  If only the GMT hand was a bit more subtle, and there was a more robust WR rating, then this really could be a killer watch.  For now, I'll chalk it up in the category of interesting contenders.  As I mentioned at the outset, that's my opinion.  Let us know below what you think of the Frederique Constant Runabout GMT, as well as what your particular favorite GMT-equipped watches are.  Inquiring minds want to know!  frederiqueconstant.com
Review Summary
Brand & Model: Frederique Constant Runabout GMT
Price: $1,795
Who's it for?  The business traveller who wants a good-looking watch to keep them on time
Would I wear it? Yes and no.  It's a fun change of pace, but I could not see this being a primary wear, given the design oddities I ran into
What I'd change: For this particular example, the GMT hand needs to be less prominent, and shaped differently than the hour hand
The best thing about it:  The Frederique Constant look and feel – and that subtle date magnifier!
[amazon_link asins='B00KKXESBO,B06WLKW8L2,B008H6GRYC,B01MXSYN03′ template='ProductCarousel' store='wristwatchrev-20′ marketplace='US' link_id='54d32cef-5c0f-11e7-88c7-43bfc15e2fc8′]