Swatch had a huge hit with the not-limited-edition but definitely hard-to-get MoonSwatch. Now they're back with a Blancpain collaboration.
Swatch is playing the Blancpain oldies – some history
This is Swatch, mining the catalogue of their more famous, more expensive brands in the Swatch Group. The Blancpain Fifty-Fathoms was among the first dive watches, and the first with a uni-directional click bezel.
Blancpain held the patent on that bezel, which is why competitor watches like Rolex only gained a click bezel in the late 70s, after the patents had expired. Tudor gained it in the early 1990s.
The Fifty Fathoms has the distinction of being the first US Navy dive watch – but it wasn't signed Blancpain on the dial.
Blancpain was from Villeret, in Switzerland. But the US wanted to purchase US products. How should they resolve this, when Enicar and Rolex failed their dive tests, and Bulova (who issued the MIL-SHIPS watch recently) backed out of the bidding process after making less than 10 watches?
Allen Tornek, the importer for Blancpain, put his name on the dial and flipped around the town name, coming up with Tornek-Rayville. But make no mistake, The Tornek-Rayville was a Blancpain Fifty Fathoms in all ways that mattered. Today, the Tornek-Rayville name is owned by Bill Yao of MKII watches, who makes Tornek-Rayvilles that pay tribute to those early US Navy watches.
This is a story about Swatch, isn't it?
Swatch has shipped watches with affordable mechanical movements for ages. A few years ago, they invented the 19 jewel Sistem 51 movement, a movement with reduced number of parts, assembled and adjusted by robots with laser beams. Say it again: laser beams. It's more or less not serviceable, but makes for a great watch.
The Swatch x Blancpain is the Sistem51 Fathoms. This is a cute name, because it substitutes the 51 of the movement for Fifty of the original.
Swatch says these watches (there are 5 of them) reproduce all the important bits of the Fifty Fathoms, while also referencing Swatch's own diving watch line, SCUBA.
The current Blancpain Fifty Fathoms is 45mm in diameter and 15.4mm thick with 120 hours power reserve. The Swatch x Blancpain version is 42.3mm, 14.4m, 48mm lug to lug, and has 90 hours power reserve.
The 5 watches
Arctic Ocean
This is a beige dial with red bezel, and red and yellow trefoil with lines through it, labeled with the words, "NO RADIATIONS". It's also on a red white and beige strap, in a sort of beige bioceramic case. The symbol references the first Fifty Fathoms without radioactive dials. This watch has no date complication.
Pacific Ocean
A bright orange-yellow case, a black and white gradient dial, with a strap made from recycled fishing nets in black, white, and orange form the Pacific Ocean version of this watch. This watch has a date window between 4 and 5 o'clock.
Atlantic Ocean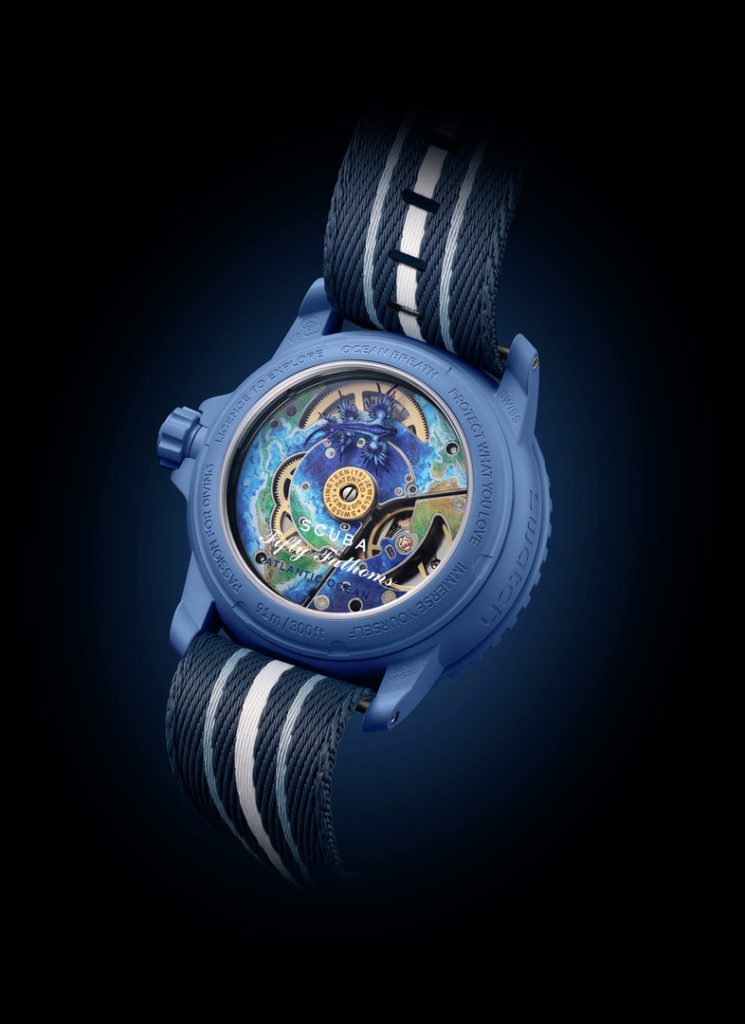 If there's a Pacific, there must be an Atlantic. Housed in a blue case, the white to blue gradient dial also has a date window between 4 and 5 o'clock. The date wheel is predominately black, with white letters. The strap made from fishing nets is blue and white.
Indian Ocean
Continuing the theme, the Indian Ocean watch is green, with orange second hand. There's just a splash of orange on the dial with the depth print. There's a date function with a matching green date in the window. The strap is black, green, and orange.
Antarctic Ocean
The ice-gray case holds a white to gray gradient dial. There's a bi-color water exposure dial, which was a feature on early Fifty Fathoms watches. The watch has no date function, and a strap with light gray, white, and dark gray.
How much are they?
These watches are $400 USD a piece. They will be available on September 9th 2023, at Swatch Boutiques worldwide. Customers will be allowed to purchase one watch per customer, per day. Learn more at swatch.com